'American Horror Story' Season 3 eyes 'evil glamour'
Ryan Murphy says the next 'AHS' installment will have a dash more romance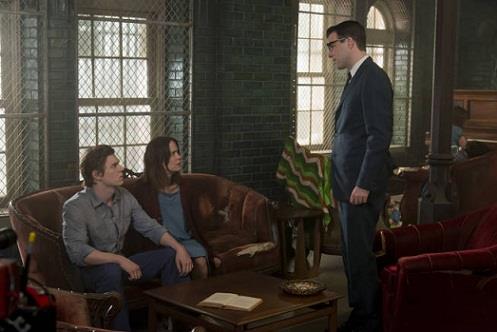 Anyone who's been attuned to "Asylum," or even checked in with our
weekly episode recaps
, can attest that "American Horror Story" has been a decidedly bleak affair this go-around. Not that it hasn't offered thrills and chills a minute, punctuated by a hearty dose of black humor. But its violent glimpse inside a Satanically and supernaturally compromised mental institution circa 1964 hasn't exactly focused on the brighter side of life.
Not to worry: Creator Ryan Murphy assures fans that Season 3 will be less stiflingly morbid. In an interview with
Entertainment Weekly
, he concedes, "I don't think anything could ever be as dark as the mental health care system in our country," while elaborating that "for the third version I want to do something that's a little bit more evil glamour." 
Specifically, that could entail another teen courtship à la Season 1, something Murphy says was lacking amid the "Asylum" doom and gloom. "I really loved having that 'Romeo and Juliet' youth story with Violet and Tate," he explains. "I want something like that again, and we're doing something like that in the third season."  As for where that next chapter will unfold, the giddy showrunner will only acknowledge, "We're contemplating shooting it in a place in the country where true horror has been. We've got lots of delicious plans." 
Far as the inmates at Briarcliff, Murphy promises that not all their fates are as grim as Shelley or [spoiler] Mary Eunice's, unavoidable as the latter's may have been. "What was important to me is that the show, as we built to the conclusion, wasn't just so dark and unrelenting," he reassures audiences. "I really wanted to have a couple happy endings, and some of the characters do have that." Well, thank goodness for tiny miracles.
"American Horror Story: Asylum" airs Wednesdays at 10 p.m. ET/PT on FX. And don't forget to visit our Recaps blog every Wednesday after each episode for the five things we learned that week on "AHS." 
Are you sure you want to delete this comment?