'AMC' and 'OLTL' casts revealed at photo shoot
New and returning stars strike a pose for cameras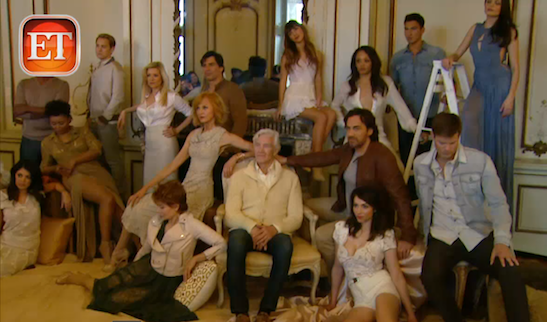 The online casts of "One Life to Live" and "All My Children" came together for their first photo shoots, styled by "Fashion Police" diva George Kotsiopoulos. With press on hand, the producers finally had to come clean about the "All My Children" returns of Cady McClain, Eden Riegel and David Canary, along with other casting reveals. The controversial "General Hospital" trio was not caught on tape. 
Bing: More about 'All My Children'  | 'One Life to Live' 

"It's an emotional day," Kassie DePaiva (Blair Cramer, "One Live to Live") told ET, who was on hand for the photo shoot. "The last time we got together for a press junket for 'One Life to Live,' we were saying goodbye to it. Today we're celebrating a rebirth and it is really amazing. I'm actually a little overwhelmed.
"I think the fans never left," added Thorsten Kaye (Zach, "All My Children"). "They enjoyed the way we told stories back then, and I got a feeling this might be even better."
Thanks to the photo shoot, "All My Children" fans can rest easy knowing David Canary (Adam Chandler), Eden Riegel (Bianca Montgomery) and Cady McClain (Dixie Cooney) are officially back in the fold, as rumors suggested. Julia Barr (Brooke) was missing from the official news release, but no worries: She was at the shoot. Ray MacDonnell (Dr. Joe Martin) is also back in town, along with previously announced returning veterans Darnell Williams (Jesse Hubbard), Debbi Morgan (Dr. Angela Hubbard), Vincent Irizarry (Dr. David Hayward), Lindsay Hartley (Cara Martin), Jordi Vilasuso (Griffin Castillo), Jill Larson (Opal Cortlandt) and Thorsten Kaye (Zach Slater).
Ryan Bittle has assumed the pivotal role of JR Chandler. Other new additions to the cast include Eric Nelson (AJ Chandler), "America's Next Top Model" winner Sal Stowers (Cassandra Foster), Denyse Tontz (Miranda Montgomery), Jordan Lane Price (Celia Fitzgerald), Heather Roop (Jane McIntyre) and Francesca James (Evelyn Johnson). 
Plus: Behind the scenes at ABC's 'Red Widow' |  Saying goodbye to shows ending in 2013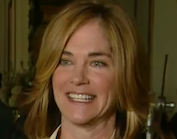 Over at "One Life to Live," Robert Gorrie (Matthew Buchanan) and Laura Harrier (Destiny Evans) join the previously announced cast, which includes Erika Slezak (Victoria Lord Buchanan), Robin Strasser (Dorian Lord), Tuc Watkins (David Vickers), Robert S. Woods (Bo Buchanan), Kassie DePaiva (Blair Cramer), Jerry verDorn (Clint Buchanan), Florencia Lozano (Tea Delgado), Melissa Archer (Natalie Buchanan Banks), Hillary B. Smith (Nora Buchanan), Kelley Missal (Danielle Manning), Josh Kelly (Cutter Wentworth) and Andrew Trischitta (Jack Manning). Recurring players on board include Sean Ringgold (Shaun Evans), Shenaz Treasury (Rama Patel) and Nick Choksi (Vimal Patel).
There has been no update on what's going on with Todd, McBain and Starr and portrayers Michael Easton (McBain), Roger Howarth (Todd) and Kristen Alderson (Starr), who had moved to "General Hospital" after the cancelation of "One Life to Live." Last buzz had Howarth back for a month, but that has not been confirmed. 
ET cameras also caught up with Erika Slezak, David Canary, Kassie DePaiva, Debbi Morgan and Darnell Williams and gave fans a sneak peak at the hot newcomers joining the cast. You can watch that video here. 
"One Life to Live" and "All My Children" are set to debut in late April on Hulu, Hulu Plus and iTunes.