Rihanna Skips 'SNL' Dress Rehearsal, Fuels Drama
Disputed report: Lorne Michaels was fuming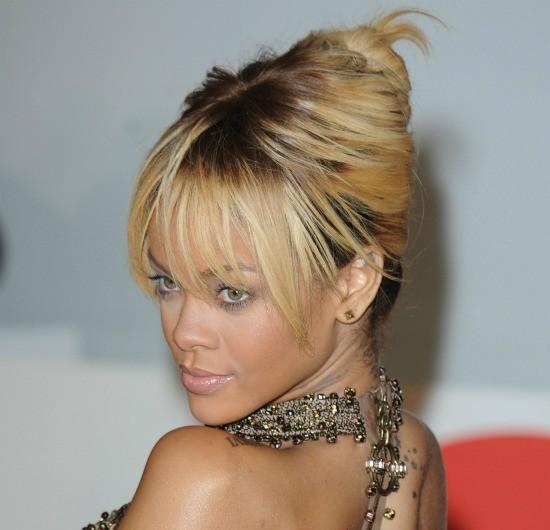 "Saturday Night Live" viewers detected nothing amiss about this week's musical guest. Rihanna looked and sounded great while performing the songs "Talk That Talk" (teased with a snippet of her Chris Brown duet, "Birthday Cake") and "Where Have You Been."


But looking and sounding great was exactly the trouble -- at least if you believe TMZ. You see, Rihanna called in sick to dress rehearsal and, according to the usually accurate gossip website, this angered "SNL" producers -- including head cheese Lorne Michaels -- because she did not appear sick.

Bing: More about 'Saturday Night Live'

According to the report, Rihanna's choreographer danced to her songs in front of the live dress-rehearsal audience because the singer "just felt too ill to do it," even requiring a shot of penicillin backstage for a sore throat.


Yet the R&B star later performed on the Eli Manning-manned episode without a vocal hitch and, according to unnamed sources, was seen walking around and eating an apple between songs.
Also: What shows are returning next season?

Skipping a dress rehearsal without being deathly ill is a major no-no in live television. It denies not only performers the chance to identify potential trouble spots beforehand, but also producers, directors, lighting and sound people, stylists  -- pretty much everyone who works on a show.


"The staff was shocked," TMZ quoted an unnamed source, "and felt she didn't appear sick enough to have missed the dress rehearsal ... though no one from the show called her on it." 
Video: Check out Rihanna performing "Talk That Talk" on "Saturday Night Live."


Most major Internet news outlets trusted TMZ enough to reprint its story unchallenged. Gossip Cop was the exception. Its own unnamed "SNL" source claimed that Rihanna's voice was genuinely jacked and that "no one at the show was upset."


The best gauge of which report holds more water will be whether Rihanna is asked back to "SNL" to promote her next album.


"Saturday Night Live" airs at 11:30 p.m. ET/PT on NBC.

Do the singers sing live now on SNL? I remember the debacle with Ashlee Simpson a few years back when she was mouthing the words to a different song than the one they were playing from back stage. That said, I thought that there was a live audience for the SNL dress rehearsal, so those people were left without their musical entertainment.

I don't know how they could tell whether she was sick or not, because her "singing" always sucks, as it has from the beginning of her career.  She was obviously picked for promotion by producers because of her looks; they knew they could kind of fix her singing with auto-tuning and other electronic tricks.  Based on the fact that the final product still often sounds "pitchy," can you imagine how bad she sounds without them?  Her act is mostly her posing, while the much more talented dancers show their stuff around her and her behavior on SNL is just another in a series of bad choices in her personal life - like her taking up with the man who beat her.  I hope they never have her back.

Are you sure you want to delete this comment?