PBS Gives Viewers a Taste of 'Call the Midwife'
Nine-minute preview of the hit British drama available online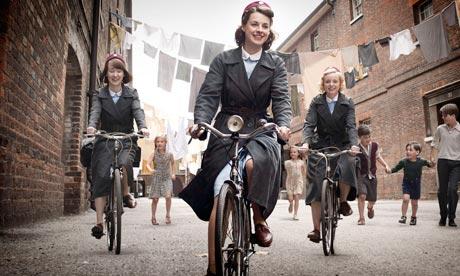 Many are already describing "Call the Midwife" the best thing to happen to PBS since "Downton Abbey." Others say the British medical drama, set in the 1950s, is even better and more addictive than "Downton."
PBS wants American viewers to be the judge and have posted a 9-minute preview of "Call the Midwife" online before the Sept. 30 debut. You can access it here or go to PBS' Facebook page where there is a link and more info.
Bing: More on 'Call the Midwife' | The BBC trailer for 'Call the Midwife'
"Call the Midwife" stars Vanessa Redgrave, Jessica Raine and Miranda Hart and is based on the best-selling memoirs of Jennifer Worth. The BBC series follows new midwife Jenny Lee (Raine) and the work of the midwives and nuns of a nursing convent coping with the lack of medical care in a low-income area of East London.
Plus: TV shows that could be movies | Fall TV premiere dates
The period drama was a ratings success in the UK when it debuted in January and will be returning for a Christmas special in December and a second season in 2013.
"Call the Midwife" debuts Sunday, Sept. 30, at 8 p.m. ET/PT on PBS. Check your local listings.
Are you sure you want to delete this comment?