Shonda Rhimes allays fans' fears
Executive producer says 'Grey's Anatomy' cast is sticking around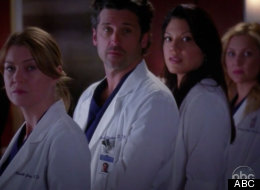 Dr. Meredith Grey and her pals quit on Thursday night's highly-charged installment of "Grey's Anatomy," but that doesn't mean the actors playing those roles are leaving.
"We're not going to see any cast departures," Shonda Rhimes, the showrunner behind the medical drama told THR of the plot twist, in which five doctors resigned from the hospital so they could buy it.
Bing: More on 'Grey's Anatomy' | Shonda Rhimes
After that shocking plane crash that killed Mark (Eric Dane) and Lexie (Chyler Leigh), the hospital awarded the survivors -- Derek (Patrick Dempsey), Meredith (Ellen Pompeo), Callie (Sara Ramirez), Arizona (Jessica Capshaw) and Cristina (Sandra Oh) --  a settlement of $15 million each, bankrupting the facility.
Plus: TV's breakout stars | 'Downton Abbey': Most shocking moments
Now the doctors have decided to save Seattle Grace with that same money and just have to find a partner to help them. But can their plan work? And what about Owen (Kevin McKidd) and the others? How will these resignations affect them?
"You're going to see them feel the burden of what they've done," Rhimes said. "It's not that they weren't right to do it, but there's definitely a sense of resentment that comes from other people because they have this money and the money has now made everything harder for everyone else."
"Grey's Anatomy" airs Thursdays at 9 p.m. ET/PT on ABC.