R.I.P. 'Justified' patriarch Arlo Givens
Saying goodbye to one of TV's most heartless, yet oddly lovable, all-time dads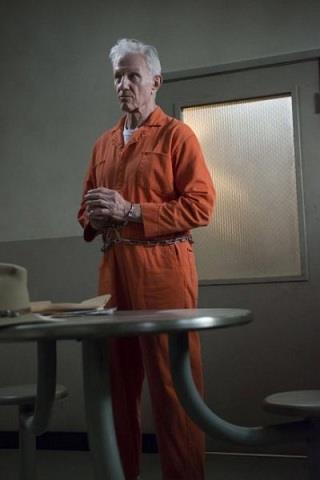 There's an old Kentucky adage that goes, "If it's not one bother, it's your murderous white trash father." Actually, nobody says that. But the sentiment is apt in the case of "Justified" and its studly U.S. Marshall Deputy/outlaw Raylan Givens (Timothy Olyphant), whose life has been irrevocably molded by the actions of his career-criminal father, Arlo (Raymond J. Barry). 
In Tuesday night's fittingly titled episode, "Outlaw," a dying Arlo bitterly, triumphantly proved that he
--
not his gun-slinging son or Raylan's sometime-adversary, Boyd Crowder (
Walton Goggins
)
-- is the original and eternal renegade of Harlan County. 
Poor Arlo saw it coming, but then he didn't. Set up for a prison killing by ex-Sheriff Mosley (ex-
"Killing"
star
Brent Sexton
, appropriately) on behalf of elusive Drew Thompson, the wily elder Givens got to him first with nothing but aftershave and an electric razor. But he got greedy, went after a guard, and got turned around by Mosley and stabbed in the chest with scissors. Bummer.
And on his incarcerated deathbed, with Raylan by his side looking for either unsolicited fatherly affection or info on Thompson's whereabouts, dear old dad could only muster a hoarse, "Kiss my ass."
Arlo, we would if we could. But you're dead. Which stinks. May you continue playing the part of clueless septuagenarian orchestrating all manner of felonious acts in some ramshackle corner of hell. And God help your son if he doesn't seek therapy. 
"Justified" airs Tuesdays at 10 p.m. ET/PT on FX.