It's a 'General Hospital' Christmas Eve Wedding for Lulu and Dante
Julie Berman & Dominic Zamprogna talk nuptials and behind-the-scenes shakeups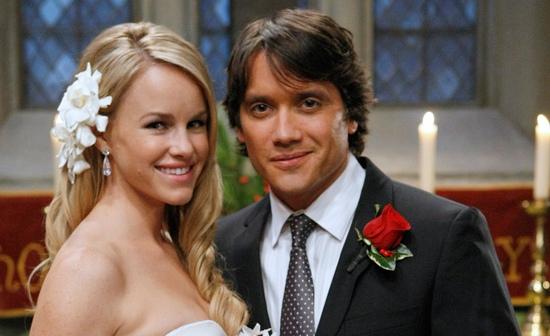 Dante and Lulu are back on track on "General Hospital" and now that Lulu's ready to get married, don't expect a long wait. In fact, if you miss the days leading up to Christmas, you'll miss their wedding! Julie Berman (Lulu) and Dominic Zamprogna Dante) preview Dante and Lulu's New York getaway, but can't make any promises about happily ever after -- or anything at all, for that matter. With "One Life to Live" exec producer Frank Valentini and head writer Ron Carlivati taking over the reins of "General Hospital," it's a whole new day in Port Charles, again.
Bing: 
Watch clips and episodes of 'General Hospital'
Lulu proposed to Dante on Friday, Dec. 16. Why the change of heart?
Berman: She realized all those things she was worried about are stupid to worry about. Why waste your time worrying about someone not being there for you [in the future] when you can have him in your life now? She told him she was wrong and is completely in love with him.
Zamprogna: Which is funny, because she wasn't acting like she was in love with him at all! She acted like she did not want to marry the guy, so he needed her to say that.
Was that behavior a defense mechanism?
Zamprogna: It was all that alcohol she was drinking! Who can make a good decision that drunk all the time?
Berman: No, it was just a tricky situation where she had to figure out her feelings quickly. Now, she's over it enough to deal with it.
Is she also over the drinking?
Berman: I don't know. It's still going on, but there's a lot of changes going on with our show and a lot of storylines on the canvas. I don't know what they're going to continue to pursue and what they're going to let go.
There was excitement over May's head writer shakeup, but what is it like to go through another round of changes so soon?
Zamprogna: I don't know if "exciting" is the word when the people who gave you your job are no longer there anymore, but that's business. It happens to actors and producers, alike. I loved Jill [Farren Phelps, outgoing exec producer] and I know Julie did too, so it's sad for us, but even Jill will tell you that she hopes the show is better for it and maybe these things need to happen in order for us to extend our run.
It must be crazy for you guys, with so much change happening both on your show and in daytime, in general.
Zamprogna: It is, but it's good. Our characters are in good places and the show is on its way too good places, so I think we're going to be fine.
Speaking of going places, let's talk about Dante and Lulu's New York City adventure, airing next week.
Zamprogna: Dante takes her there for a night out and it turns into something more. They go to Ground Zero and start talking about the future.
Berman: It brings up a lot of emotions, because Dante's character used to go there as a child and obviously, it rehashes the issue of losing a loved one to their work. It's good for them to have this conversation and it propels this spontaneous wedding.
Julie, last time we spoke you said all you wanted your huge soap wedding: Did this cut it?
Berman: It did! Now I can die happy. (laughs) Totally kidding, but it was perfect and sweet. I'm happy for the characters and I think fans will love the ceremony and all the sweet touches that make it personal to the characters.
And did you get your soap wedding dress?
Berman: She doesn't have a lot of time to buy something, so it was not quite my first choice of dress, but yes, and it was beautiful, sweet and perfect.
Zamprogna: We were surprised they weren't going to go for it in a bigger way with this wedding, but it worked out better this way. We have some unexpected guests show up and it's a small ceremony, but it gets a little crazy. It had a few fun, touching moments and I think everyone's going to like it. We did.
Going into 2012 as newlyweds, will they get to enjoy the proverbial honeymoon?
Berman: There's no actual honeymoon, but they're in a good place. No current drama. They're married, it's official and everyone knows. It's a nice place to be, but who knows how long that will last?  
With so much darkness in Port Charles, is it nice to get to play lighter moments like this?
Zamprogna: It is if they're true. If it's contrived on either end of the scale, it's not awesome to play. That's why the wedding lingered for me. It was nicely done, and the fighting and darkness we've had in the weeks leading up to it was also more realistic. Dante and Lulu finally hashed it out. This is the first time they've been honest and faced true conflict that real couples face.
Berman: The audience would tire very quickly if we were happy all the time. What makes you want two characters together is seeing them overcome difficulty and having the struggle of, "Oh my gosh, I want them to be together and they're not!" You need that to fuel the fire.
There was a point where it seemed nothing could get between these two and then so much was thrown in their path.
Berman: I don't think they intended us to get married this quickly. I don't know for sure, but I think it was a last minute change in direction that they wrote this wedding in before the end of the year. A lot of that has to do with wanting to give fans what they want, and maybe it was also time for them to have some happiness and just get to the point.
Speaking of giving fans what they want, any update on you two having a fan event together?
Berman: Dominic's doing something with Chad [Duell (Michael)], but it's not in the cards for us right now.
Zamprogna: Julie secretly doesn't like me, so we can't do an event together.
Berman: Oh, now it's not a secret! Damn.
Zamprogna: Shoot.
"General Hospital" airs weekdays on ABC.