One to Watch: 'Glee'
The McKinley High gang goes down in a disco inferno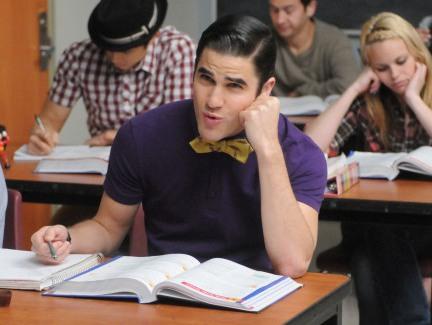 In a throwback to last season's album-inspired "very special episodes," a la the "Rumours" round-up, "Glee" goes all old school this week with a raucous '70s celebration.

Worried that the glee club gang has lost its mojo, Mr. Schue and Sue Sylvester decide to school the kids in some "Saturday Night Fever," complete with glittery gear, disco balls, bell bottoms and, of course, spasm-inducing mood lighting. 
The episode will feature songs for the John Travolta hit including "Disco Inferno," as rocked by Amber Riley's Mercedes, "You Should Be Dancin'" by Darren Criss's Blaine, and we can't forget "Stayin' Alive," featuring Chris Colfer's Kurt, Naya Rivera's Santana and Mercedes.
Oh, and if you're concerned about actual plot, here's what we can expect: continued New York versus L.A. versus Ohio angst for Rachel and Finn -- which apparently is contagious, because we can expect the same chat to happen with Kurt and Blaine later this season; more romantic drama -- and perhaps a sex tape scandal -- for Brittany and Santana, and more speculation on the "celebrity father" of Sue Sylvester's baby.
Here's a sneak peek:
"Glee" airs Tuesdays at 8 p.m. ET/PT on FOX.