Look Who's Talking in Daytime: May 28 to June 1
From first lady Michelle Obama to Bobby Brown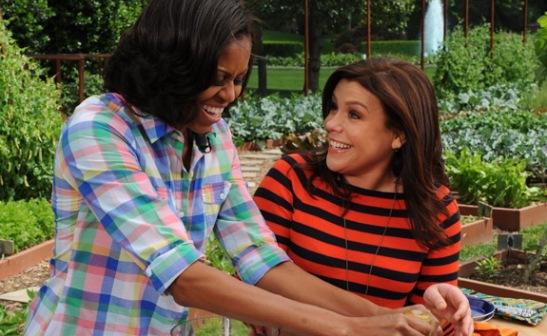 In spite of a slew of repeats on the daytime schedule for the week of May 28, there are still hot celebrities and big performers making the rounds. First Lady Michelle Obama will make two visits to ABC and then have Rachael Ray over for a White House BBQ. Big screen stars from "Snow White & the Huntsman," "Madagascar 3: Europe's Most Wanted" and "Neighborhood Watch" are coming to daytime; along with primetimers from "Modern Family," "Drop Dead Diva," "Dancing with the Stars," "Private Practice, "The Office," "Melissa & Joey," "Basketball Wives," "Pawn Stars" and "Push Girls." "Live! With Kelly" calls in Mark Consuelos, Barenaked Ladies lead singer Ed Robertson and Mike Greenberg as co-hosts for the week. Carrie Ann Inaba and Mario Cantone also get into the guest co-host game, elsewhere. Other notables coming to chat include Jim Parsons, Bethenny Frankel, Stacy Keibler, Vanessa Williams, Matthew Broderick, Bill Bellamy, Nicole Ari Parker and Margaret Cho. Plus, don't miss performances from the "American Idol" final three, Bobby Brown, Brad Paisley, Rufus Wainwright, Kat Graham, Rebecca Ferguson, One Direction and the cast of Broadway's "Nice Work If You Can Get It."
Bing: More about 'The Ellen Show' | 'GMA' | 'Today" 
 Schedules are subject to change. Repeat information provided where available.


"Anderson"
Mon: Sharon Osbourne; Guest co-host Carrie Ann Inaba
Tues: The World's Tallest Man
Wed: No celebs on the docket
Thurs: No celebs on the docket
Fri: Retrospective episode of most controversial guests and outrageous moments


"The Ellen DeGeneres Show"
Mon: Ellie Kemper, 2012 National Teacher of the Year Rebecca Mieliwocki; Rufus Wainwright performs
Tues: Vince Vaughn, Bethenny Frankel; Kat Graham performs
Wed: Vanessa Williams, Sarah Hyland, Mia Schaikewitz and Angela Rockwood
Thurs: Adam Levine, Colton Dixon, Sophia Grace and Rosie (repeat)
Fri: Steve Harvey, Gabriel Mann, Jason Mraz (repeat)

"Good Morning America"
Mon: TBA
Tue: First Lady Michelle Obama
Wed: TBA
Thurs: TBA
Fri: TBA; Brad Paisley performs
"Live! With Kelly"
Mon: Jim Parsons, Rick and Corey Harrison and Austin "Chumlee" Russell, Katie Brown; co-host Mark Consuelos
Tue: Amy Brenneman; Phillip Phillips performs; co-host Ed Robertson
Wed: Melissa Joan Hart; Jessica Sanchez performs; co-host Martin Short
Thurs: Kristen Stewart, Bill Hader; Joshua Ledet performs; co-host Mike Greenberg
Fri: Chris Hemsworth; co-host Mike Greenberg
"The Rachael Ray Show"
Mon: Sam Talbot, Shailene Woodley (repeat: 3/22/12)
Tues: Stars from "I Used to Be Fat," Kyan Douglas (repeat: 11/01/11)
Wed: Megan Hilty chats and performs (repeat: 3/5/12)
Thurs: Michelle Obama, Bob Harper
Fri: "The Great Philly Grill-Off" with Patti LaBelle, Ty Pennington (repeat: 9/26/11)

"The Talk"
Mon: Julie Andrews; Train performs  (repeat: 3/21/12)
Tues:  Miss Piggy, Dr. Sanjay Gupta, Rachael Harris ( (repeat: 3/21/12)
Wed: Michael Ealy; Trisha Yearwood guest co-hosts  (repeat: 4/30/12)
Thurs: Shannen Doherty (repeat: 4/10/12) 
Fri: Randy Jackson (repeat: 4/23/12)


"Today"
Mon: Merle Haggard, Bobby Brown performs
Tue: Charlize Theron; Rebecca Ferguson performs
Wed: Martin Short, One Direction performs
Thurs: Kristin Stewart, Cedric the Entertainer; Jessica Sanchez performs
Fri: Chris Hemsworth; The Band Perry performs
"The View"
Mon: The hosts' favorite things
Tues: First Lady Michelle Obama
Wed: Carmen Wong Ulrich; Rebecca Ferguson performs
Thurs: Matthew Broderick, Stacy Keibler; Broadway cast of "Nice Work If You Can Get It" performs
Fri: Charlize Theron, Joe and Heather Nichols; Margaret Cho performs; Guest co-host Mario Cantone

"The Wendy Williams Show"
Mon: Loretta Devine, Lara Spencer, Jaleel White (repeat)
Tues: Corbin Blue, Kathy Najimy, Tami Roman
Wed: Donny Deutsch, Dominik Garcia-Lorido
Thurs: Bill Bellamy, Brooke Elliot
Fri: Nicole Ari Parker
Also: What TV shows are returning next season?
Want more TV? Be sure to like MSN TV on Facebook and follow MSN TV Twitter.