'Vampire Diaries' Talking Points: Road-trippin'!
Lots of blood and lust this week as Delena drama develops and Alaric's dark side is revisited!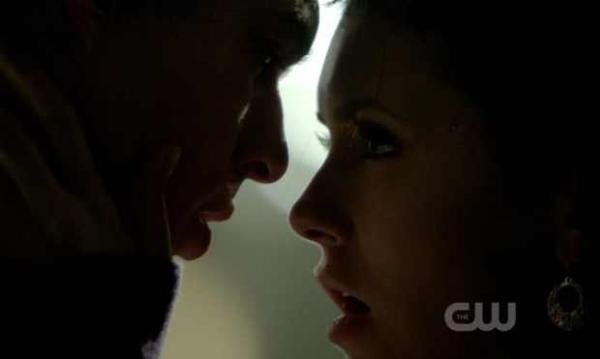 On the "Vampire Diaries," when we last left Mystic Falls, Alaric's highly uncooperative alter ego was still a vampire-hating serial killer – and he'd hidden the final white oak wood stake that could kill the Originals. And every vampire created from their bloodlines, too.


Bing: More on "The Vampire Diaries" 
The whole ring thing was clearly problematic, so Elena and Damon were Colorado-bound to find Jeremy, who wore the other murderous rage-inducing piece. Plus, Stefan wanted Elena to "resolve" her feelings for Damon, one way or the other. So there was a lot at stake, so to speak, on this trip. Yes, pun intended.
When they got to J, he wasn't quite buying the whole "we need you to talk to the dead vampire Rose" story that Damon and Elena fed him. But he didn't have time to probe – Original Cole showed up and tried to attack Damon, but Damon maimed him with a wooden baseball bat. Apparently, Cole had befriended Jeremy without telling him he was an Original.
Meanwhile, at school, Caroline was planning the decade dance – and Rebecca tried to horn in on her decision-making. Caroline voted '70s, while Rebecca wanted to go all flapper-style. And Matt voted for the '20s, too. What gives? Rebecca wanted to know what he was up to. "It's sad that you can't get a ride home from school without thinking there's some ulterior motive," he said.
Well, actually, Matt's interest in Rebecca was all (or mostly, at least) a rouse to keep the Original mean girl busy while Caroline went on her own secret mission – to find Tyler. Cue the make-up sex. Tyler told her felt "freer" from Klaus. Then Caroline told about the bloodline thing – how all the vampires created from that bloodline died with the Original. So if they killed Klaus, they killed Tyler. "But Damon doesn't care," she warned him. In the meantime, he came home with her. He found Klaus's drawing. "Does Klaus have a thing for you or something?" he asked. "Why'd you keep this?" Just when they were connecting again, it all fell apart.
At the Original mansion, Original witch Esther was waiting for her daughter. "Give me one reason not to kill you now," Rebecca said. Esther's response: "I'm dying." She'd been drawing power from the Bennett bloodline, but the connection had been broken. She told Rebecca that she'd been watching over her for 1000 years. "No one should live that long," she said. To which Rebecca responded: "But I haven't lived at all." Esther apologized. And then she died.
At some boondock motel – with nice mountain views – Jeremy called on Rose. She said that she was sired by a Mary Porter. "Scary Mary," Damon scoffed. While Jeremy slept, Damon and Elena talked. "Why don't you let people see the good in you?" she asked. "Because when people see good, they expect good," he said. "I don't want to have to live up to anyone's expectations." Then he took her hand, at which point she left to get some air. And some space. But Damon followed. "Don't," she said. But there was no resisting.
They only stopped because Jeremy showed up to tell them Rose had found Mary in Kansas. Road trip time. Jeremy was not happy about his traveling companions' newfound love connection, but it was time to hunt down "Scary Mary, really old, super-creepy." And a previous hook-up. They did find Mary. And she was scary. And dead. Cole had already gotten to her. "She was a bit of an Original groupie," Cole said. "I know you wanted to find out where you descended from. Now you never will." Then he proceeded to beat Damon to a pulp with a metal baseball bat.
Stefan kept watch over Alaric, who still blamed himself for unleashing that maniac killer. But while Stefan was all "it's not your fault," Klaus wasn't as forgiving. He wanted that stake – and he knocked Alaric dead. But don't worry, he was wearing his immortality ring. So he laid their dead for half the night as Stefan read Moby Dick. When he awoke, Alaric suggested Stefan try to kill him – sans ring – and hoped his alter ego didn't have a death wish. So Stefan attacked, drawing a lot of blood. But he was worried he wouldn't be able to resist. He attacked again. And there he was, the evil Alaric. "You're so weak," he told Stefan. "One of nature's most hideous creatures and you can't even get that right."
But it wasn't just evil Alaric. It was something far more sinister.  "You're all going to burn," he said. "Ashes to dust." But this thing did self-preserve – he told Stefan the white oak stake was in the cave, where no vampire could get it. Klaus and Rebecca were waiting for word outside. Rebecca took Alaric to the caves to get the stake or die. Klaus, meanwhile, taunted Stefan, beckoning his Ripper alter ego to come out and play. But Stefan told him to kill him or get out.
Damon asked Elena what she really wanted. Elena said she was confused and he was destructive. But he wasn't letting her off that easy. Tense silence in the car as the rain poured out. Jeremy watched the two of them sulk. But then Rose spilled: "You don't see what I see," she said. "It's not that she makes him a better person. She does. But he changes her, too. Damon challenges her. Surprises her. He makes her question her life, beliefs. Damon is either the best thing for her, or the worst." Jeremy pondered this as Rose disappeared.
At the cave, Alaric got the white oak stake. But then he stayed inside, where Rebecca couldn't get in. "There's only one stake out there," he said, "which means only one Original has to die. Help me and I'll make sure it's not you." Then Rebecca stepped forward – right into cave. "But you see," she said, "I don't want one Original to die. I want them all to die. Mine name is Esther. And we have a great deal in common."

Gah! What did Esther mean? What is Alaric, really? And what will happen when they join forces to take down all those Original bloodlines? Three weeks left this season, and things are about to get down and dirty!
"The Vampire Diaries" airs Thursdays at 8 p.m. ET/PT on the CW.