33rd Annual Young Artist Awards Nominees Announced
Performing kids and teens from primetime, daytime and more to be honored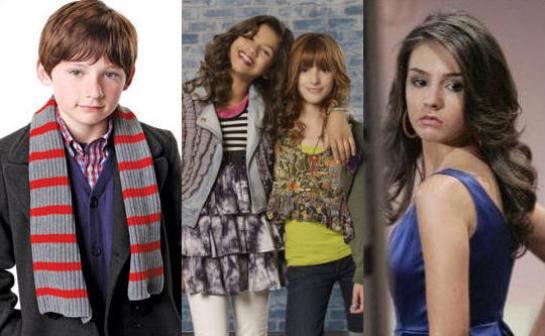 The Young Artist Foundation together with the Social Relations of Knowledge Institute, Inc. has revealed the nominees for the 33rd Annual Young Artist Awards, which recognize teens and children in the entertainment industry. Winners will be announced on Sunday, May 6 at a gala at the Empire Ballroom of the Sportsmen's Lodge Hotel in Studio City, California.
Bing: More about the Young Artist Awards
Here's a list of the nominees in the big TV categories. Visit the Young Artist Awards website for more nominees, including recurring and guest actors in TV and all young actors in film and stage.

Best Performance in a TV Movie, Miniseries or Special
Leading Young Actor
Connor Gibbs -- "A Crush on You" (Hallmark)
Joey Luthman -- "The Joey and Elise Show" (DATV)
Anthony Robinson -- "Hercules Saves Christmas" (Animal Planet)
Christopher Saavedra -- "We Have Your Husband" (Lifetime)
Nicholas Stargel -- "Oliver's Ghost" (Hallmark)
Leading Young Actress
Jada Facer -- "Love's Christmas Journey" (Hallmark)
Elise Luthman -- "The Joey and Elise Show" (DATV)
Kiernan Shipka -- "Smooch" (Hallmark)
Supporting Young Actor
Brennan Bailey -- "The Dog Who Saved Halloween" (ABC Family Channel)
Matthew Knight -- "The Good Witch's Family" (Hallmark)
Liam McKanna -- "Beyond the Blackboard" (Hallmark)
Robert Naylor -- "Cyber Bully" (ABC Family Channel)
Raymond Ochoa -- "Other People's Kids" (ABC Studio)
Bruce Salomon -- "Deck The Halls" (TNT)
Riley Thomas Stewart -- "A Christmas Wedding Tail" (Hallmark)
Supporting Young Actress
Caitiin Carmichael -- "Bag of Bones" (A&E TV)
Megan Charpentier -- "He Loves Me" (Lifetime)
Kirstin Dorn -- "A Christmas Wish" (Hallmark)
Olivia Steele Falconer -- "A Fairly Odd Movie; Grow up, Timmy Turner" -- Nickelodeon
Hannah Leigh -- "Meet Jane" (Lifetime)
Savanna McReynolds -- "Beyond the Blackboard" (Hallmark)
Quinn McColgan -- "Mildred Pierce" (HBO)
Olivia Scriven -- "Mistletoe over Manhattan" (Hallmark)
Morgan Turner -- "Mildred Pierce" (HBO)
Best Performance in a TV series
Leading Young Actor
Devan Cohen -- "The Yard" (Movie Central)
Dylan Everett -- "Wingin' It" (Family Channel)
Jared Gilmore -- "Once Upon a Time" (ABC)
Will Jester -- "Debra" (Family Channel)
Matthew Knight -- "My Babysitter's a Vampire" (Disney Channel)
Daniel Lupetina -- "The Yard" (Movie Central)
Chandler Riggs -- "The Walking Dead" (AMC)
Leading Young Actress
Zendaya Janae Coleman -- "Shake it Up" (Disney Channel)
Sami Gayle -- "Blue Bloods" (CBS)
Christine Prosperi -- "Degrassi: The Next Generation" (CTV)
Jillian Rose Reed -- "Awkward" (MTV)
Bella Thorne -- "Shake it Up" (Disney Channel)
Niamh Wilson -- "Debra" (Family Channel)
Supporting Young Actor
Karan Brar -- "Jessie" (Disney Channel)
Max Burkholder -- "Parenthood" (CBS)
Jake Johnson -- "Man Up" (ABC)
Maxim Knight -- "Falling Skies" (TNT)
Austin MacDonald -- "Debra" (Family Channel)
Bradley Steven Perry -- "Good Luck Charlie" (Disney Channel)
Supporting Young Actress
Ciara Bravo -- "Big Time Rush" (Nickelodeon)
Kaitlyn Dever -- "Last Man Standing" (ABC)
Stefanie Scott -- "A.N.T. Farm" (Disney Channel)
Caillyn Taylor Love -- "I'm in the Band" (Disney Channel)
Best Performance in a Daytime TV Series
Young Actor
Aramis Knight -- "General Hospital" (ABC)
Garrett Ryan -- "The Young and the Restless" (CBS)
Aaron Sanders -- "General Hospital" (ABC)
Andrew Trischitta -- "One Life to Live" (ABC)
Austin Williams -- "One Life to Live" (ABC)
Young Actress
Lexi Ainsworth -- "General Hospital" (ABC)
Haley Pullos -- "General Hospital "(ABC)
Ellery Sprayberry --"The Young and the Restless" (CBS)
Young Actor 12 and Under
Tate Berney -- "All My Children" (ABC)
Robbie Tucker -- "The Young and the Restless" (CBS)
Jake Vaughn -- "All My Children" (ABC)
Young Actress Ten and Under
Mackenzie Aladjem -- "All My Children" (ABC)
Laura Boles -- "Days of Our Lives" (CBS)
Dannika Liddell -- "All My Children" (ABC)
Danielle Parker -- "All My Children" (ABC)
Outstanding Young Ensemble in a TV series
"The Yard" (Movie Central): Keana Bastidas, Alex Cardillo, Devan Cohen, Quintin Colantoni, Shemar Charles, Daniel Lupetina, Sarah Cramner, John Fleming, Olivia Scriven, Jared Karp, Slam Yu
"Debra" (Family Channel): Niamh Wilson, Will Jester, Austin MacDonald, Alicia Josipovich, James Coholan, Camden Angelis
"Shake It Up" (Disney Channel): Zendaya Coleman, Bella Thorne, Davis Cleveland, Adam Irigoyen, Kenton Duty, Caroline Sunshine, Roshon Fegan