Look Who's Talking in Daytime: Oct. 8 to Oct. 12
Stars from the 'Melrose Place,' 'St. Elsewhere' and 'Larry Sanders' reunite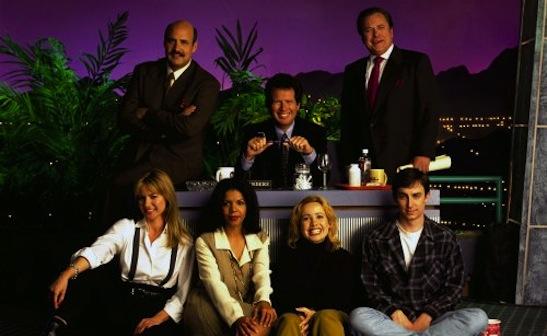 Daytime is busy the week of Oct. 8 with Ben Affleck, John Goodman, Bryan Cranston, Christopher Walken, Kevin James, Salma Hayek, Leighton Meester, Henry Winkler, Kevin James, Octavia Spencer, Allison Janney, Mary McCormack and Marcia Cross promoting "Argo," "Here Comes the Boom" and other big screen releases. Primetimers are talking up "Nashville," "Private Practice," "The Good Wife," "Scandal," "Beauty and the Beast," "Made in Jersey," "CSI: Crime Scene Investigation," "Criminal Minds," "Blue Bloods, "Happy Endings," "Anger Management," "Modern Family," "The New Normal," "Go On," "X Factor," "Dancing With the Stars," "Jersey Shore," "The Real Housewives of Miami," "Keyshia & Daniel: Family First" and "Long Island Medium." Other notables coming to daytime include Nick Cannon, Pete Townshend, Stephen Colbert, Bill O'Reilly, Rachel Maddow, Joy Behar, NCAA Wrestling Champ Anthony Robles, WWE champ John Cena, Magic Johnson, Jack Hanna and the author of "The Belly Melt Diet." Plus, KISS, Cody Simpson, the Script, Joshua Radin, Rick Springfield and Chris Rene are set to perform. 
Bing: More on 'Larry Sanders Show' | 'Melrose Place' | 'St. Elsewhere'
"GMA" continues its All-Star Reunion Blowout with the casts of "Melrose Place," "St. Elsewhere" and "Larry Sanders," and in Robin Roberts absence, calls in Rob Lowe, Ann Romney and Brooke Shields for backup during the 8 a.m. hour.  "The TalK" hosts Sharon Osbourne's Fabulous 60th Birthday Extravaganza and also invites Joshua Morrow, Mary McCormack, Boris Kodjoe and Shemar Moore to co-host an episode.
Plus: TV's fast-rising shows | TV shows in their final seasons
Schedules are subject to change
"Anderson"
Mon: Co-host Kellie Pickler; "Anderson Live Anger Project;" Chris Rene performs
Tues: Co-host Keke Palmer; Stephen Colbert, Cast of "My Shopping Addiction"
Wed: Co-host Jane Velez-Mitchell; the 1100 Pound "Half-Ton Killer," Mystery Guest
Thurs: Co-host Alexa Chung; Human Lie Detector Janine Driver, Kenny Rogers
Fri: Co-host Nancy O'Dell; "Argo" cast Ben Affleck, John Goodman, Bryan Cranston
"Ellen"
Mon: Colin Farrell, Nolan Gould; Cody Simpson performs
Tues: Matthew Perry, Justin Bartha, Jennifer Livingston
Wed: Eric Stonestreet, Rachel Maddow; Joshua Radin performs
Thurs: Octavia Spencer, Bethenny Frankel, gay boyscout Ryan Andresen
Fri: Kate Walsh, Mike Epps, NCAA Wrestling Champ Anthony Robles
"Good Morning America"
Mon: "Melrose Place" reunion, Ben Affleck, Mark Kelly, Chef Emeril Lagasse
Tue: Rob Lowe; Connie Britton; John Goodman and Alan Arkin, Jack Hanna
Wed: Ann Romney; actor Bryan Cranston, "Jersey Shore" cast, "Dancing With the Stars" castoff, Stanley Tucci
Thurs: Brooke Shields, "St. Elsewhere" cast, Salma Hayek; KISS performs
Fri: "Larry Sanders" reunion; Henry Winkler and Kevin James; chef Michael Symon; Drew Lachey and Anna Trebunskaya perform
"Jeff Probst Show"
Mon: Lord Robert Walters
Tue: "Push Girls" Angela and Tiphany; Fabio Viviani
Wed: Deepak Chopra                                
Thurs: same-sex couple tackling adoption; Violence Interrupter mom who fights gang conflicts
Fri: Melanie Lynskey, Oliver Platt
"Katie"
Mon: Theresa Caputo
Tue: Magic Johnson
Wed: Cybersafety expert Parry Aftab
Thurs: Happiness investigated
Fri: Moms making money at home
"Live! With Kelly and Michael"
Mon: Ben Affleck, John Cena
Tue: Christopher Walken, Connie Britton; Rick Springfield performs
Wed: Kevin James, Kristin Kreuk; The Script performs
Thurs: Bryan Cranston, Stanley Tucci
Fri: Salma Hayek, Kyle MacLachlan; Drew Lachey and Anna Trebunskaya perform
"Marie"
Mon: Kelly Monaco, Beth Howard; Pentatonix performs
Tue: Alana Stewart
Wed: Dean Cain; Kym Douglas; Ace Young and Diana DeGarmo perform
Thurs: Peri Gilpin, "Krazy Koupon Lady" Joanie Demer; Kirsten Vangsness
Fri: Mary Hart, "DC Cupcakes" partners Katherine and Sophie, Shawnee Smith, dog trainer Xaviera Ladd
"Rachael Ray Show"
Mon: Mystery Taster
Tues: Peter Walsh, Sunny Anderson
Wed: "The Belly Melt Diet" author, Gretta
Thurs: Maura Tierney
Fri: Nick Cannon, Nancy O'Dell
"Steve Harvey"
Mon: "Toddlers & Tiaras" cast; the "Insanity" workout.
Tues: "Travel Mom" Emily Kaufmann
Wed: Paleo Diet versus veganism versus the "Dem" diet; Jackie Stafford
Thurs: "So You Think You Can Dance" fave Cyrus performs
Fri: Dr. Laura Berman, Judson Allen
"Ricki Lake"
Mon: Adam Shankman, Trish Suhr, Areva Martin, Faith Salie and Brandon Bowlin; Time magazine's breastfeeding mom, Jamie Lynn Grumet; Kevin McHale
Tues:
Wed: "Hook, Line and Sisters" star Sierra Anderson, truck driver Shannon "Sputter" Smith, Liz "The Poker Diva" Lieu
Thurs: the circumcision debate
Fri: experts give tips on de-stressing and restoring balance
"The Talk"
Mon: Co-host Joshua Morrow; Leighton Meester
Tues: Ozzy Osbourne, Kelly Osbourne, Nick Cannon and more
Wed: Co-host Mary McCormack; Jennifer Esposito, Jackie Evancho
Thurs: Co-host Boris Kodjoe; Allison Janney, chef Susan Feniger
Fri: Co-host Shemar Moore, Megan Mullally, Zachary Knighton
"Today"
Mon: TBA
Tue: TBA
Wed: TBA                               
Thurs: TBA
Fri: TBA
"The View"
Mon: Pete Townshend
Tues: Bill O'Reilly
Wed: Nick Cannon
Thurs: Co-host Chef Michael Symon; eliminated couple from "Dancing with the Stars: All Stars" performs
Fri: Michael Strahan, Jewel, Lara Spencer

"The Wendy Williams Show" 
Mon: Kerry Washington, "Lovetown, USA" host Paul Carrick Brunson
Tues: Donny Deutsch, Jason Kennedy, Jeannie Mai
Wed: Magic Johnson; Vinny, the Situation, Ronnie and Pauly D.; Chef Lorena Garcia
Thurs: Lilliana Vazquez, Joanna Krupa
Fri: Joy Behar; Keyshia Cole talks and performs
Are you sure you want to delete this comment?