Look Who's Talking in Daytime: Sept. 24 to Sept. 28
The Obamas, Emmy wrap-ups, prime-time premieres and big performers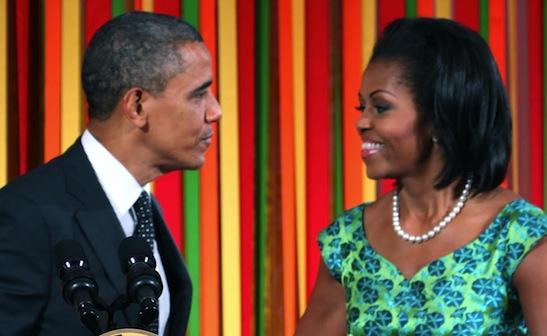 Between the presidential election, Sunday's Emmys show and fall TV premieres, not to mention all the talk show competition, daytime is hopping the week of Sept. 24. President Barack Obama and First Lady Michelle Obama are coming to chat, along with Joseph Gordon-Levitt, Barbara Streisand, Selena Gomez, Adam Sandler, Marcia Cross, Andrew McCarthy, Jennifer Garner, Viola Davis, Maggie Gyllenhaal, Rosie Perez, Selena Gomez, Pam Anderson, Kobe Bryant and Amar'e Stoudemire. Prime-timers are out to promote "Homeland," "Once Upon a Time" "The Good Wife," "Revenge," "Private Practice," "The Mentalist," "Boss," "Scandal," "Blue Bloods," "Elementary, "666 Park Avenue," "Last Resort," "Modern Family," "Two and a Half Men," "How I Met Your Mother," "New Girl," "Guys with Kids," "Animal Practice," "Raising Hope," "Parks and Recreation," "Mike & Molly" and "The New Normal," not to mention "Dancing with the Stars: All-Stars," "American Idol," "X Factor" and three of "The Real Housewives." Plus, No Doubt, Green Day, The Killers, Dwight Yoakam, Olly Murs and Elle Varner are performing.
Bing: More on the Primetime Emmys | Election 2012
Regis Philbin becomes a part-time co-host, and Goldie Hawn, Katherine Schwarzenegger, Kellie Pickler, Taraji Henson, Rosanna Scotto and Andy Cohen also clock in as co-hosts. "The Steve Harvey" show and "Trisha" take on hot topics. Old-school viewers will also enjoy "The Carol Burnett Show" reunions scheduled.
Plus: TV shows that could be movies | Fall TV premiere dates
* Schedules are subject to change.
"Anderson"
Mon: Co-host Goldie Hawn; Cheryl Leitner
Tues: Co-host Katherine Schwarzenegger; Viola Davis, Maggie Gyllenhaal, Rosie Perez and cast of "Won't Back Down
Wed: Co-host Kellie Pickler; Kelsey Grammer, Teresa Giudice,
Thurs: Co-host Taraji Henson; Ty Burrell, Cesar Milan
Fri: Co-host Rosanna Scotto; World's Smallest Siblings; Carol Burnett, Vicki Lawrence and Tim Conway
"Ellen"
Mon: Viola Davis, Pam Anderson, Bethenny Frankel
Tues: Zooey Deschanel, Maggie Elizabeth Jones; No Doubt talks and performs
Wed: Joseph Gordon-Levitt, Kerry Washington; No Doubt performs
Thurs: Jennifer Garner, Dwight David Howard; Green Day talks and performs
Fri: Selena Gomez, Kobe Bryant; The Killers perform
"Good Morning America"
Mon: Steven Tyler, BHS at "Dancing with the Stars"
Tue: Ty Burell, Vanessa Williams, Caroline Kennedy, Rocco DiSpirito
Wed: Julie Bowen, Scott Speedman, J.K. Rowling                              
Thurs: Sofía Vergara, Lana Parilla, J.K. Rowling
Fri: Eric Stonestreet; Emily VanCamp; Selena Gomez, Adam Sandler and the cast of "Hotel Transylvania"; Olly Murs performs
"Jeff Probst Show"
Mon: Margaret Cho, Chely Wright
Tue: Brandi Glanville
Wed: Three not so everyday people living in unique situations                               
Thurs: Jon Cryer and Lisa Joyner Cryer
Fri: three not so everyday cheaters
"Katie"
Mon: Demi Lovato
Tue: Barbara Streisand
Wed: Sofia Vergara
Thurs: Radio host Delilah
Fri: Chelsea Handler
"Live! With Kelly and Michael"
Mon: Maggie Gyllenhaal, Billy Gardell, Lawrence Zarian
Tue: Jimmy Fallon, Nene Leakes
Wed: Ty Burrell, Terry O'Quinn
Thurs: Sara Ramirez, Lana Parrilla
Fri: Julianna Margulies, Emily Vancamp
"Rachael Ray Show"
Mon: Regis Philbin co-hosts
Tues: Sharon Osbourne, Sunny Anderson
Wed: Kevin and Danielle Jonas, Rach's Hubby John
Thurs: Peter Walsh, Lucy Liu
Fri: Donnie Wahlberg
"The Ricky Lake Show"
Mon: John Edward and Char Margolis
Tues: Surviving a kidnapping
Wed: Abby Epstein and "The Business of Being Born"
Thurs: Makeover madness
Fri: Pre-partum depression
"The Talk"
Mon: Neil Patrick Harris, Nancy O'Dell; Jamie Krell, Dr. Travis Stork
Tues: Benjamin Bratt, Antonia Lofaso
Wed: Simon Baker, Joshua Morrow and Sharon Case
Thurs: Penny Marshall, Cloris Leachman, David Myers
Fri: Marcia Cross, Andrew McCarthy
"Today"
Mon: Carol Burnett, Viola Davis, Ashanti, Shea Gallant, Maggie Gyllenhaal
Tues: Jimmy Fallon and Anthony Anderson; Celebrity Homes; Mike Isabella; Jesse Bradford and Zach Cregger; Nene Leakes
Wed: Justin Kirk; Jonathan and Drew Scott; Kimberly Schlapman
Thurs: Bobbi Brown, Rosie Perez
Fri: Soleil Moon Fry, Bobbi Brown, Famke Janssen, Cesar Millan
"The View"
Mon: Gabby Douglas; Nicki Minaj; Carol Burnett, Tim Conway and Vicki Lawrence
Tues: President Barack Obama and First Lady Michelle Obama
Wed:  Julie Bowen, Ann Coulter; Dwight Yoakam performs
Thurs:  Vanessa Williams
Fri: Guy Friday Co-host Andy Cohen; Damian Lewis, Jennifer Morrison, Michael Corbett

"The Wendy Williams Show" 
Mon: Melissa Gorga, Tamar and Vince, Katrina Szish.
Tues: Angela "Big Ang" Raiola; Elle Varner performs
Wed: Anthony Anderson, Eliana De Las Casa
Thurs: Subira Shaw
Fri: Amar'e Stoudemire, Bahar Takhtehchian