First 'Munsters' Reboot Photos Surface
And the show doesn't look horrifically bad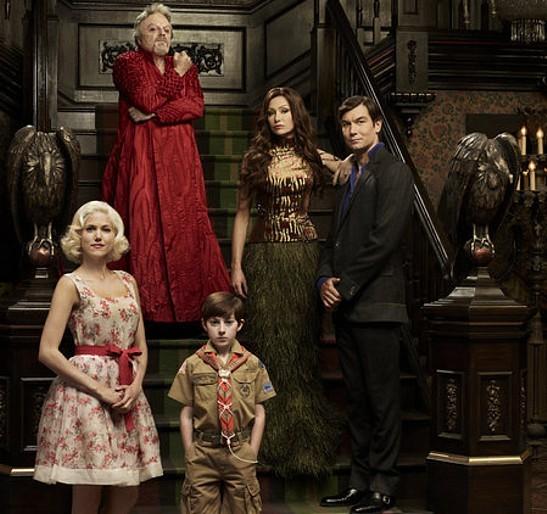 TVLine has published the first photos from the NBC reboot of "The Munsters." And, at least visually, "Mockingbird Lane" doesn't look horrifically bad.

The sitcom was in the works for two years before NBC drove a wooden stake through its heart. However, in a move unusual for a failed pilot, "Mockingbird Lane" will air (as a one-hour Halloween special on Oct. 26).

Bing: More about 'The Munsters'

Although NBC executives didn't consider it good enough for a series, "Mockingbird Lane" has things going for it that are already apparent. Unlike the original 1960's series -- and the horrific 1988 syndicated reboot starring John Schuck as Herman Munster -- this "Munsters" at least has enough originality not to pattern Herman Munster (Jerry O'Connell) after Frankenstein, Lily (Portia de Rossi) after the Bride of Frankenstein, Grandpa (Eddie Izzard) after Dracula, or Eddie (Mason Cook) after the Wolfman. (Charity Wakefield's Marilyn, however, does fit the Marilyn Monroe stereotype. But hey, who minds looking at that?)


Plus: TV actors who also sing | TV superheroes from A to Z
According to the Hollywood Reporter, the pilot -- produced by Bryan ("Pushing Daisies") Fuller -- cost $10 million. That alone could explain why NBC considered several options for it other than simply the circular filing cabinet. (It considered shooting extra footage to package it as a made-for-TV movie for international buyers, and redeveloping it again before ultimately deciding to pair it with a scary "Grimm" episode for Halloween.)


Rather than explaining why it took a pass on making it a series, the network released this very network-like statement announcing the pilot's airing as a special: "This exciting new take on a memorable series will definitely blow out conventional wisdom and create its own legacy."


Really? Because, if it's that exciting ...


"Mockingbird Lane" will air Friday, Oct. 26, at 8 p.m. on NBC.