Peter Bergman Talks 'The Young and the Restless'
Daytime vet discusses recent power shake-up, the wheelchair and the future
"The Young and the Restless" recently underwent a
significant power shift
, with daytime vet Jill Pherren Phelps brought in as the new executive producer and Josh Griffith brought back to lead the writing team. MSN TV caught up with star Peter Bergman (Jack Abbott) to see how the shift is affecting the cast, not to mention how he's handled Jack's time in the wheelchair and what he'd like to see for Genoa City with the new regime in place.
Bing: More about "The Young and the Restless" | Peter Bergman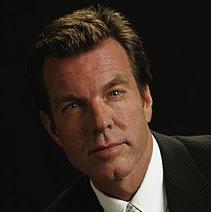 MSN TV: How is life in Genoa City?
Peter Bergman: Life is good. I'm almost out of that chair!
How has Jack's confinement to a wheelchair been for you?

It's actually been great, in a lot of ways, because it's kept me more alive as an actor. I have more things to think about, so I am more engaged.
Was it hard, especially in the beginning, to just not move?
It was. You have to square off with Victor Newman, and he's standing and I'm sitting. Figure out as an actor how to make that work!
What's coming next for Jack?

We're just around the corner from Victor coming back to town and it's going to get very ugly very fast. Oh yeah.
Victor and Sharon got married Aug. 2. Now it's Jack and Nikki's turn. Were you surprised the show revisited Jack and Nikki after all these years?
Not at all. With every woman you've ever seen me on the show with, I've always played that Jack never actually got over it. Every time Jack was in a room with Nikki, he was a little off center. Same thing with Phyllis and Sharon.
Everything is sure to shift in Genoa City, with Jill Farren Phelps and Josh Griffith coming in and former showrunner Maria Arena Bell pushed out: What are your thoughts about the regime change?
It's always difficult to transition in anything. It will come with some difficulties, but frankly we've got a seasoned veteran coming in and we have in Josh a writer we're familiar with who did great things to help us in the past, so you go on with a kind of happiness just being here.
An essential player like you may not be concerned, but at a time like this, is there tension in the cast about who might be staying or going?
Frankly, the tension goes much higher than that - what writers, what producers will stay? It doesn't affect the actors quite as quickly. We have some people walking around looking a little dazed, but it's an exciting time on the show. We're heading into a really cool time, with this giant new commitment to making CBS [daytime] this juggernaut, and they're hoping to do it with us. We're thrilled with that.
Has there been any talk about what kind of changes to expect?
We're somewhat in the dark, at this point, but that will be made clear pretty soon.
Before this went down, did it feel like a change needed to be made?
Did I think it was time? I'm never a good person to tell you that. I literally just do my job. I wait for a script to be delivered to my room. The moment I see it, I open it and read it. I find out what's happening next.
Anyone who's ever interviewed you knows you definitely have opinions.
I have very strong opinions, yes. And I hope to god they come up with something for me, but I don't write story. I've gotten in my hair cut by the same person for 20 years. When I sit down and say, "I want a haircut," I get a good haircut. When I say, "Leave it a little longer on the top and tight on the sides," I get a shitty haircut. So I don't write. I want someone to put great stuff in my dressing room and I'll make it work. 
How did you feel about the way Josh wrote for Jack during his last run (2006 to 2008)?
Josh wrote for all the characters and always took good care of Jack. Frankly, everybody is rolling the dice on these things. That's true from week to week with the same writer and that's true with transitions to new writers. You hope we're all on the same page. Every once in awhile, though, they come up with one thing – Maria said, "We're going to put you in wheelchair. What do you think of that?" Six months later, I am still in the wheelchair. I thought she was talking about a short-term thing! I've learned so much in this whole time, but that's the nature of things.
What are your hopes for Jack, now?
I hope that Jack always has Jabot. I hope Jack is a center of power on the show. And I hope Jack is always surrounded by family.


Jack finally has one of his kids around, again.
Yes and [Blake Hood] is lovely. He's a nice actor and a good guy. Kyle's got some issues with me. I wonder why?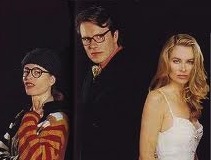 I have to ask, are you going to tune in for onscreen sister Eileen Davidson's (ex-Ashley) October return to "Days of Our Lives"?
I will absolutely watch that. I hope I get to see those teeth come out!
What has it been like to work with "All My Children" alums Debbie Morgan (Harmony) and Darnell Williams (Sarge), again?
Is that so cool? The old gang! Funny story about Debbie Morgan: I was at "All My Children" and the job was coming to an end. I told Debbie "Y&R" called to ask how tall I was [and that I told my agent], "Don't call them back."  She said, "Wait, wait. I watch 'The Young and the Restless.' Run, don't walk!" 23 years later, here I am working with Debbie Morgan.
Before "All My Children" was cancelled, they had a classic photo of Cliff and Nina in the hallway, which I posted on twitter. The fan response was crazy. Do "AMC" fans still approach you?


It happens a lot when I'm in New York City. People come up and say, "I watch you every day. I love you." I obviously think they're talking "Y&R," but then they say, "You and Nina are the best!" Um, my story's been a bit light lately, hasn't it?
Plus: TV's best bromances | Meet the new cast of 'Dancing with the Stars'
"The Young and the Restless" airs weekdays on CBS.