Eric McCormack Bounces Back
Former 'Will & Grace' star finally gets another hit with TNT drama 'Perception'
Eric McCormack has gotten his groove back.
The 49-year-old actor, who is best known for his title role on the hit series "Will & Grace," hasn't had a successful TV vehicle of his own since the eight-season comedy came to an end in 2006. Until now.
Bing: More on TNT's 'Perception' | Eric McCormack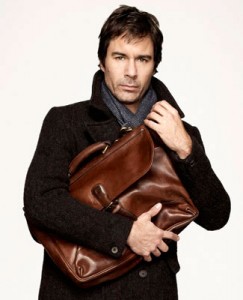 McCormack's new program, "Perception," pulls in seven million viewers a week and TNT has picked up the drama for a second season. The Toronto native stars on the procedural as Dr. Daniel Pierce, a gifted neuroscience professor battling paranoid schizophrenia.
Despite his mental disorder, or possibly because of it, Pierce is able to help the FBI solve complex cases. "Perception" airs Monday nights and also stars Rachael Leigh Cook, Kelly Rowan and Arjay Smith.
This isn't McCormack's first TNT offering. In 2009, he starred alongside Tom Cavanagh in the comedic advertising drama, "Trust Me." The show turned out to be a ratings flop and only lasted one season.
Most of McCormack's former "Will & Grace" cast mates have had better strokes of TV luck.
Plus: Comedic actors who get serious | TV spin-offs | Disney Channel shows we miss
Debra Messing, who famously played Grace, will enjoy a second season of NBC's Broadway musical drama "Smash" when the show returns in 2013. Meanwhile, Sean Hayes, who often stole the show as Jack, will reunite with Messing, 44, as a recurring guest star on "Smash."
Hayes, 42,  is also set to guest on the Peacock's parenting comedy "Up All Night" and is one of the executive producers behind the network's scary fairytale hit, "Grimm."
McCormack, Messing, Hayes and Megan Mullally, who costarred as Karen, all earned Emmys for their memorable performances on "Will & Grace" but of the four, only Mullally is without a follow-up hit.
Mullally, 53, has joined the casts of shows such as Starz's "Party Down" and most recently, FOX's "Breaking In," only to see them get canceled. And her 2006 syndicated talk show was killed after four months. Perhaps Mullally should consider producing.
"Perception" airs Mondays at 10 p.m. ET/PT on TNT. "Grimm" airs Mondays at 10 p.m. ET/PT on NBC and will move to Fridays at 9 p.m. ET/PT, beginning Sept. 21.
Are you sure you want to delete this comment?