Steve Burton talks 'Young and the Restless' move
'The Talk' welcomes 'General Hospital' vet to CBS
It's official: "General Hospital" favorite Steve Burton is clocking in at "The Young and the Restless." His character Dylan McAvoy, described as a "rugged ex-soldier with a secret," is set to appear on canvas Wednesday, Jan. 30. The live announcement, which aired Jan. 7 on "The Talk," came with much fanfare. 
Bing : More about "The Young and the Restless" | 'General Hospital' | Steve Burton
After co-host Julie Chen made the announcement and welcomed Burton to CBS, confetti dropped and co-host and "The Young and the Restless" fan Sheryl Underwood did a wild happy dance. 
"That was the most excitement I've had in years," Burton laughed. 
There's no doubt Burton will find more excitement in Genoa City. Though it hasn't been confirmed, MSN heard buzz that his character may share a past with Avery (Jessica Collins), who is currently paired with Nick Newman (Joshua Morrow). Whatever is in store, Burton isn't likely to spend much time on the back burner. 
Fans of "General Hospital" have mixed feelings about the news. Burton's character Jason Morgan was a central force on the show and when Burton left, he claimed he was ending his 20-year run in Port Charles to move to Nashville and take a break from Hollywood. Some of his fans are willing to support his swift about-face, but others feel duped. 
The backlash started building after
his casting was leaked as a rumor
 in December, so during his sit down on "The Talk," Burton tried to explain his position. He insisted he remains committed to raising his kids in Nashville, but CBS Daytime and Sony made him an offer he couldn't refuse.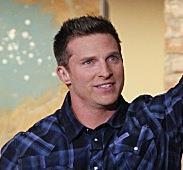 "I told my manager if I can keep my family there and I can spend time with them and come back and forth, I would do that in a second," Burton recounted. "Without hesitation, CBS Daytime made that deal. Really quickly. This is crazy, but I'm just so happy to have the best of both worlds for my family, because before, I couldn't." 
Burton also revealed the chance to work with executive producer and former boss Jill Farren Phelps played a big hand in his decision to join the show. He, Phelps and James Franco were pitching another TV project to Sony when Sony first enquired about bringing him to Genoa City.  

After his appearance on "The Talk," Burton spent time
tweeting
with fans who gave him shout-outs of support. He revealed he was nervous, grateful and ready to take on a new wardrobe. His new character will smile "a lot" and won't be sporting Jason's signature T-shirt, jeans and leather jacket. 
Presumably, "General Hospital" wasn't willing to make the deal Burton needed, but he tweeted, "No hard feelings," adding a smile emoticon. 
During "The Talk," Burton's premiere date was announced as Jan. 29, with Jan. 8 his first day on set. A release from "The Young and the Restless," however, sites Wed, Jan. 30 as his first appearance on screen. 
"The Young and the Restless" airs weekdays on CBS.


Jill Phelps has a loooooong history of screwing up whatever soap she's running. This is a fact that goes back decades. I wish Y&R fans all the luck in the world, because they're gonna need it. As for Steve Burton? He'll be out of a job within a year when the tanking ratings can't justify  his salary.

Just a guess here but I think he will be on the Y&R for a nice long spell and then his character will be written off and then like GH always does, he will be resurrected from the dead and come back to Sam and his son.  I don't get why he said he wants to spend time with family and moved them only to almost immediately join a new soap. Whatever I like this actor and hope only the best for him.

I'm a fan, and the guy can do what he wants. But he also makes a big deal out of  being "real" and "honest" with fans, sometimes (oversharing) on Twitter. (Seriously, he posts ten times a day.)  So I kind of feel taken (no pun intended), "Look what stupid soap fans will believe this time!"  I wish him well, but I barely have time to keep up with GH, I don't have another 200 minutes a week to watch another soap.
Are you sure you want to delete this comment?