Look Who's Talking in Daytime: June 18 to June 22
Michelle Obama does double dutch during a rockin' week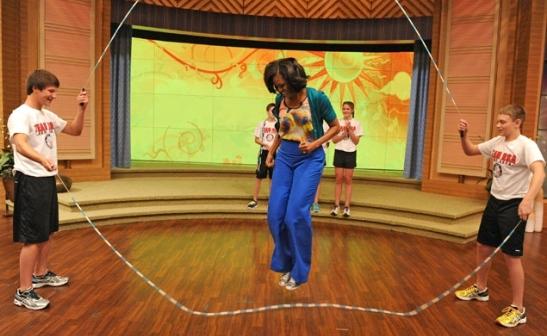 The daytime lineup is hopping the week of June 18, figuratively and literally. First Lady Michelle Obama shows off her double-dutch moves when she takes over "Live! With Kelly" Monday.
Bing: More about 'The Ellen Show' | 'GMA' | 'Today"
Justin Bieber, LMFAO, Kenny Chesney, F.U.N., Pat Benatar and Neil Giraldo and Rita Wilson will keep viewers bopping in their seats. Stars from "Ted," "Rock of Ages," "People Like Us," "Seeking a Friend for the End of the World," "To Rome with Love" and "Abraham Lincoln Vampire Hunter" are making the rounds, along with primetimers from "Anger Management," "Royal Pains," "The Soul Man," "Baby Daddy," "Duets," "Dogs In the City" and the Lifetime movie "Tall Hot Blonde." Other notables coming to daytime include Mary J. Blige, Ice T, Carmen Electra, Adam Carolla, Jack Osbourne, Joan Rivers and Scott Wolf. Plus, don't miss rebroadcasts of hot interviews you may have missed the first time around. 
Plus: Here comes the pride | Also: Summer reality TV fare | TV's top dads
 Schedules are subject to change.
"Anderson"
* Repeat Week *
Mon: cast of "Bayou Billionaires," Renee Graziano
Tues: Dr. Sanjay Gupta and conjoined twins
Wed: Backstage at "Jeopardy: Power Players Week"Mystery Guest
Thurs: J.R. Martinez, Tracey Gold, Elton John
Fri: Mystery Guest who starred in the biggest movie musical of all time
Bing: Watch clips and episodes of 'The Ellen DeGeneres Show'

"The Ellen DeGeneres Show"
* Repeat Week *
Mon: Meryl Streep, Ricky Gervais; Snow Patrol performs
Tues: Sam Worthington, Michael Strahan; Seal perform
Wed: Steve Carell, Brooklyn Decker, Bobby Brown
Thurs: Jon Hamm, Michael Weatherly; Sara Bareilles perform
Fri: Julianna Margulies, Kevin Nealon; Sophia Grace and Rosie perform
"Good Morning America"
Mon: TBA
Tue: TBA
Wed: TBA
Thurs: TBA
Fri: LMFAO performs
"Live! With Kelly"
* Wed, Thurs and Fri feature fresh host chatter with repeat interviews *
Mon: First Lady Michelle Obama, Marc Forgione; guest-host Bryant Gumbel
Tue: Mary J. Blige, Mark Feuerstein, Rita Wilson, Cat Cora; guest-host Nick Lachey
Wed: Julia Louis-Dreyfus, Ice T, Ronnie Wood; guest-host D. L. Hughley
Thurs: Sissy Spacek, Beth Behrs, Mark Ruffalo, Lisa Rinna; guest-host Josh Groban
Fri: Cameron Diaz, Steven Colbert; guest-host Michael Stahan 

"The Rachael Ray Show"
* Repeat Week *
Mon: David Duchovny, Vanessa Lachey
Tues: William Shatner
Wed: Regis Philbin
Thurs: John Gidding, Christa Miller
Fri: Kyan, Larry the Cable Guy
"The Talk"
Mon: Carmen Electra, David Zinczenko
Tues: Adam Carolla; Dan Bucatinsky, Justin Silver
Wed: Jack Osbourne; Pat Benatar and Neil Giraldo perform 
Thurs: Scott Wolf; Gina Torres
Fri: Joan Rivers 


"Today"
Mon: Mark Wahlberg, Loretta Lynn profile
Tues: The Professionals
Wed: Jane Pauley, Anthony Mackie
Thurs: Steve Carell, Mark Bittman; F.U.N. performs
Fri: Kenny Chesney performs


"The View"
* "How Funny Are You?" week with guest judge Mario Cantone. 
Mon: Jimmy Fallon, Niecy Nash
Tues: Justin Bieber performs
Wed: Michelle Pfeiffer, Marco Rubio, Snooki and Jwoww
Thurs: Courtney Cox, "Octomom" Nadya Suleman
Fri: Patricia Heaton, Ellen Page and Greta Gerwig; Guest co-host Arsenio Hall

"The Wendy Williams Show"
Mon: DJ Tom Joyner
Tues: Cedric the Entertainer, Kate Flannery
Wed: Rebecca Romijn and Jerry O'Connell, Tahj Mowry
Thurs: (repeat) Teresa Giudice, Robin Thicke
Fri: Anthony Mackie, Noureen De Wulf