Look who's talking in daytime: Dec. 24 to Dec. 28
Christmas celebrations and New Year's prep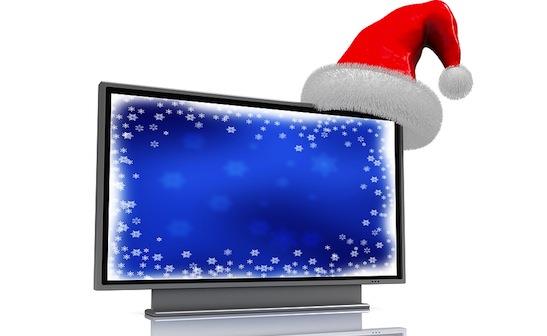 With the holiday upon us, daytime kicks off the week of Dec. 24 with Christmas celebrations around the dial. After Monday and Tuesday, however, it's all about wrapping up the year and preparing for New Year's Eve. You'll find fresh episodes of "GMA" and "Today" all week, but most talk shows will re-air popular episodes. Matt Damon ("Promised Land"), Judd Apatow ("This Is 40") and Chris Pine and Kevin Costner ("Jack Ryan") are talking up their new movies, while stars from "The Real Housewives of Orange County," "Baby Daddy," "Couples Therapy" and "Down Home With the Neelys" are making the rounds. Catch performances from Aretha Franklin, Rod Stewart and Colbie Callait, Scott McCreery, Il Volo, Katherine Jenkins, Andre Rieu and Broadway's "Annie" star Lilla Crawford. Other notables coming to daytime include Trisha Yearwood, Ryan Seacrest, Marlee Matlin and Neve Campbell. Plus, look for encore interviews with the "Twilight Saga," "The Hobbit" and "Parental Guidance" casts, Bradley Cooper, Taylor Swift, Judge Judy and more, along with some rocking encore performances.
Plus: TV characters we lost this year | Best and worst shows of 2012
Soap opera fans can find the preemption schedules for Christmas and New Year's here. Plus, find your favorite holiday movies via MSN TV's holiday viewing guide. 
Bing: More daytime TV news
Schedules are subject to change
"Anderson"
Mon: Holiday special with co-host Gayle King; Pat & Gina Neely, a holiday surprise for family In need, ugly sweater contest
Tue: (repeat) Co-hosts Kathie Lee Gifford and Hoda Kotb; Ashley Greene
Wed: (repeat) Viewer Co-Host Challenge Winner; Cast of "The Hobbit"
Thurs: (repeat) Co-host Cyndi Lauper; Jon Cryer, CMT's "Bayou Billionaires" cast
Fri: (repeat) Co-host Keke Palmer, Stephen Colbert, "My Shopping Addiction" cast
"Ellen"
Mon: (repeat) Robert Pattinson and Taylor Lautner, Kirstie Alley 
Tue: (repeat) Heidi Klum; Nikki Reed and Mackenzie Foy
Wed: (repeat) Julie Bowen; Youtube piano prodigy Andy Lee; Peter Faccinelli and Elizabeth Reaser
Thurs: (repeat) Taylor Swift talks and performs
Fri: (repeat) Miley Cyrus; Maggie Grace and Jackson Rathbone
"Good Morning America"
Mon: Beautiful gift wrapping, last minute gift ideas, Chef Gail Simmons; celebrities read their renditions of "Twas the Night Before Christmas"; Scott McCreery performs
Tue: Guest co-anchor Mario Batali; chef Rachel Willen and Mario Batali face-off in a gingerbread house challenge; Andre Rieu performs "Silent Night"; Katherine Jenkins performs
Wed: Judd Apatow, post-Christmas deals; chefs Marcus Samulesson and Tim Love holiday leftover solutions; Lilla Crawford performs
Thurs: Best and Worst of 2012, posh dog hotels, iron chef showdown, extreme eyebrow trends
Fri: Ryan Seacrest, teen secrets to getting the best deals, "GMA" fave 2012 moments; pet expert Dr. Marty Becker
"Jeff Probst Show"
Mon: (repeat) Pauley Perrette
Tue: (repeat) Jon Cryer
Wed: (repeat) people who've beaten the odds                  
Thurs: (repeat) Lord Robert Walters, Jodi Jill
Fri: (repeat) Gina Gershon, Jackson Galaxy
"Katie"
Mon: Katie's Christmas Eve Spectacular: Rod Stewart and Colbie Callait perform;
Tue: (repeat) Original Annie's Andrea McArdle and Aileen Quinn celebrate Broadway's "Annie"
Wed: (repeat) Michael J. Fox     
Thurs: (repeat) Dr. Phil
Fri: (repeat) Judge Judy
"Live! With Kelly and Michael"
Mon: Christmas Eve Special, Matt Damon, Santa Claus; Aretha Franklin performs and shares her Ree Ree's Glazed Ham recipe
Tue: (repeat) Michael's "Elf" Broadway debut; BHS at The New York City Ballet's "George Balanchine's The Nutcracker"; New York's holiday sights; "Live" holiday moments
Wed: (repeat) Ricky Martin, Bradley Cooper; Usher
Thurs: (repeat) Robert Pattinson and Kristen Stewart; BellyDance Superstars dance lessons
Fri: (repeat) Alec Baldwin, Nicki Minaj, Miranda Cosgrove; BHS at Michael's People magazine photo shoot
"Marie"
Mon: (repeat) Joey Lawrence, Chris "The Toy Guy" Byrne, Marley Majcher; Marie Osmond performs
Tue: TBA
Wed: Jeanne Cooper, oncologist Dr. Lawrence Piro
Thurs: Melissa Peterman, Heather DuBrow, Dr. Jenn Berman
Fri: (repeat) Vicki Lawrence and Tim Conway; Gail Dunn on car maintenance for women; Noel Fisher
"Rachael Ray Show"
Mon: Trisha Yearwood judges Battle of the Carolers
Tue: (repeat) Whitney Cummings, dressing your turkey
Wed: (repeat) co-host Regis Philbin
Thurs: (repeat) Rocco DiSpirito
Fri: (repeat) Jeff Probst
"Ricki Lake"
Mon: (repeat) pre-partum depression
Tue: (repeat) highs and lows of adoption
Wed: (repeat) Dita Von Teese, Cameron Silver, Beverly Johnson; The Apple Sisters perform
Thurs: (repeat) psychics Char Margolis and John Edward
Fri: TBA
"The Talk"
* Daily December Giveaways with Texas Battle continue
Mon: Co-host Carnie Wilson; Neve Campbell, holiday cooking with chef Jacques Haeringer
Tue: (repeat) Aeason three makeup-free premiere with Jamie Lee Curtis, Melody Thomas Scott, Michelle Stafford and Katherine Kelly Lang
Wed: Marlee Matlin, money-saving tips; Il Volo performs
Thurs: (repeat) Halloween costume special with Jennifer Coolidge; Vicki Lawrence; Carnie and Wendy Wilson; chef Cat Cora
Fri: (repeat) Chandra Wilson; magician Jason Latimer; time saving tips for mothers; holiday entertaining tips and ideas
"Today"
Mon: Dressing the Queen, last minute Christmas to-do list, Rosie the Riveter, letters to Santa, chef Sunny Anderson; Il Volo performs.
Tue: Christmas show, awkward animals situations, holiday music game, super-agers, Guinness World Records of 2012, Holiday Cocktails, Valerie Bertinelli, cooking with the Scotto family
Thurs: Viral sensations of 2012, crazy celeb beauty trends; Bow to Wow. 
Fri: Today Year-Ender, The Hobbit, 2012 Celebrity Yearbook, Mixologist tips


"The View"
Mon: (repeat) Bette Midler, Billy Crystal and Bailee Madison; dermatologist Dr. Doris Day
Tue: preempted
Wed: (repeat) Co-host Chris Cuomo, Naomi Watts and Maria Belon; Mario Cantone performs
Thurs: (repeat)  Co-host Derek Hough, Chris Tucker
Fri: (repeat) Ethan Hawke, Lewis Black; Jackie Evancho performs
"The Wendy Williams Show"
Mon: (repeat) Adam Lambert; Radio City Rockettes perform
Tue: (repeat) Wiz Khalifa, Dara Torres; Tamar Braxton performs
Wed: (repeat) Iman: "Dr. Seuss' How the Grinch Stole Christmas" cast performs
Thurs: (repeat) Kevin Nealon
Fri: (repeat) Christina Milian, Mark Feuerstein