Hallmark Channel Skews Younger With Gen-X Stars
Kellie Martin and Joey Lawrence to headline upcoming made-for-TV flicks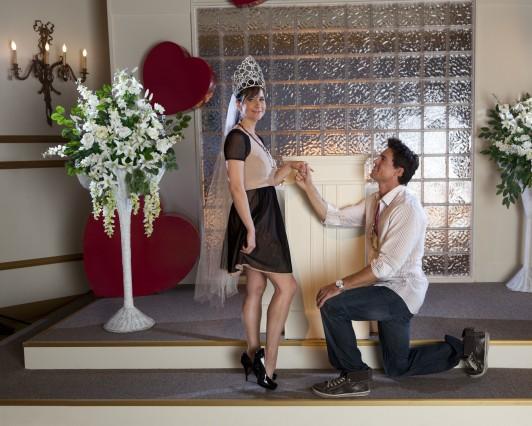 For TV lovers of a certain age, actress Kellie Martin will always be Becca from ABC's family drama, "Life Goes On" (1989-93).
But just as Corky (Chris Burke) and Becca taught us, life, well, goes on. And Martin, 37, who is now a wife, mom and toy-store owner, continues to act. She was a cast member on "ER" and can now be seen on Lifetime's "Army Wives." 
This weekend, Martin will star in the made-for-TV movie, "I Married Who?," as a woman who has an alcohol-induced bachelorette party in Las Vegas and accidentally weds the wrong guy ... or is he? "I Married Who?" airs Saturday, Oct. 20, on Hallmark Channel.
Bing: More on 'I Married Who?'  | Kellie Martin

Such fun premises and casting are a part of the basic-cable network's attempts to draw younger viewers, younger female viewers, to be exact. For instance, Candace Cameron Bure, who is best known as D.J. Tanner from "Full House" (1987-95), starred in Hallmark Channel's "Puppy Love."
The flick, which premiered back in September, featured Cameron Bure as a single mom who adopts a mutt for her lonely child and winds up finding Mr. Right. "Puppy Love" proved ratings gold for Hallmark Channel and drew 2.6 million viewers, the biggest audience for an original premiere on the network this year.
Plus: Photos from 'X Factor' Season 2 | TV's highest-paid actors | 'Walking Dead' fantasy draft

Martin and Cameron Bure aren't the only '90s TV celebs to headline Hallmark Channel's roster of weekend flicks. In November, Joey Lawrence ("Blossom" and ABC Family's "Melissa & Joey"), will star in "Hitched for the Holidays."  Lawrence, 36, will play a commitment-phobe who pretends to date a woman to appease his family in time for Christmas. Emily Hampshire ("Ruby Gloom") and Marilu Henner ("Taxi") also star.
Will Martin and Lawrence's movies draw the same ratings Cameron Bure did? Time will tell but in the meantime, it's a treat seeing all these former Bop and Tiger Beat-cover kids in one place.
"I Married Who?" premieres Saturday, Oct. 20, at 9 p.m. ET/PT and "Hitched for the Holidays" debuts Sunday, Nov. 25, at 8 p.m. ET/PT on Hallmark Channel.

At the risk of sounding like a misanthrope, the quality of cable has gone down as more people have signed on.  Most if not all the channels are far off their original mission and Hallmark is no exception. That's most likely because most of us aren't into creative and/or challenging programming.  I could swear that when Hallmark was premium that they programmed productions from Hallmark Hall of Fames of distant past. Now it's only from recent years. Yes, they'll have new productions, and they're aiming, I guess, at young Middle America, but they'll still have the same old thing over and over again. To paraphrase Springsteen, we have 200 channels and nothing on.
Are you sure you want to delete this comment?