'True Blood' Talking Points: The Battle Begins
10 major 'True Blood' plot points you need to know to get by at the water cooler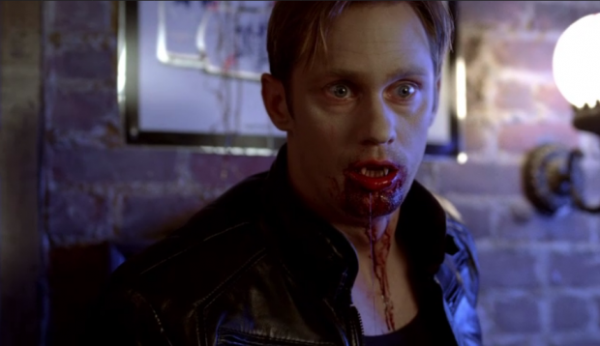 Last week on "True Blood," Russell Edgington was to be executed by the Authority, but thanks to Salome's plan, he instead staked Roman. This week, the new ruler put her agenda into action -- and Eric and Bill were swept into it despite themselves. Meanwhile, Sookie learned some new information about her own fairy powers that had her questioning everything. 

Bing: More on "True Blood"
This week, as the Authority attempted to recapture their prisoner, chaos erupted. Locked up, Bill and Eric unraveled the mystery of who might have let Russell loose. It couldn't have been Nora – and there was clearly no silver running through the mad man's veins. But as soon as Salome released them, it was pretty obvious. "I have been born-again," a fully free Russell told them. "Made again in my new maker's image." As Salome revealed herself, Bill told her: "You can't play the grieving widow and the leader of the coop at the same time." But she said she wanted to share the power: "Join us." Eric refused. And Bill told her mainstreaming was the only way. Still, she insisted they join the Authority for a ceremony the next night.
At the fairy burlesque club, Sookie Stackhouse was out cold as fairy Claude and one of his pals tested her, uh, luminescence. "As you are only half-fae, your magic is finite." Sookie was pleased to hear that – but the fairies told her that she was capable of more than she'd ever know. She didn't care. She just wanted out of there. At home, Jason told her she couldn't blame herself for her parents' death. Later, Sookie tried to deplete her magic as Jason went to go see Jessica and told her that vampires killed his parents. Jessica reminded him that they were not all the same – and kissed him. But he tasted blood on her mouth. When he said she just drank from a guy she didn't even know, she said, "So what, do you know the name of every cow you ever ate?" Then she attacked him, and he shot her in the head. Of course, she healed, but the rift between them? Permanent.
At Merlotte's, Arlene was watching her wedding video when Holly walked in. She burst into tears. "I was so happy that day. I had it all – I didn't even know it." She told Holly that Terry was crazy, about the spirit made of smoke. Holly said their might be truth to what he was saying. "I'm not saying it is for real. I'm just asking if you're going to be able to live with yourself if you gave up on that man and found out what that really was?" Meanwhile, Terry and Patrick sat in a field – and the Ifrit showed up, mocking them before wafting away. The trauma made Terry want to kill himself. But Patrick remind him that his family would want to know he died fighting, not like that. "I'm so sorry," Patrick said, finally admitting that Terry was just following his orders.
Alcide was being trained by his new were-buddy – and the sexual tension between them was palpable. But they were going up against packmaster JD, which meant Alcide needed to actually be prepared. Later, Martha confronted Alcide about the upcoming challenge. "It's JD's turn now," she insisted. "He has more than earned it." But Alcide told her that JD was on V. JD, meanwhile, told his pack that the vampire he'd been hanging with told him the end of days was coming – war between vampires and humans. He gave them all V – even little Emma. But Martha caught him in the act. And she was furious.
At the sups-shooter shop, the coroner came to the scene-of-the-crime to check out the body. Meanwhile, Sam Merlotte sniffed out some of those Obama masks the killer gang had been using. Later, Andy went to go see former Sheriff Deerborn for advice – but the Sheriff told him he was retired, and he was busy cheating on his wife.
Sookie went to go see Luna and talked to Sam about the killer gangs. "They even went off to her daughter – and she's only eight. This is the kind of world she's going to grow up in." She asked Sam if he'd give up his shifting powers to be human. But he was conflicted. "You've got to keep fighting stupidity," he said. "But I'm so f-cking tired of fighting." She pondered the fact that, even if they lost their supernatural-ness, would all the hate still bother them? Either way, the world would be a much safer place. Later, Sam didn't want to leave Luna. And for good reason – one of the masked men was there, working as an orderly, with a clear agenda.
Hoyt, meanwhile, was hanging with the hate group, who fed him a rant against the lame-stream media – and specifically, Jessica. "Do you hate Jessica Hamby? Then we're here to hate her with you." Later that night, he joined them on one of their raids.
Lafayette, still hunting for Jesus, went to go see the old grandfather – and found his boyfriend's head. Then found his grandfather, holding a gun. He tied Lafayette up and stitched up his mouth. Ouch. He claimed that Lafayette had stolen his family's magic – and that tonight, he would take it back. And put it into his pregnant wife's belly. "My wife will drink the blood I collect from your brain." But she had other plans. As he was about stab Lafayette in the head, she killed the man.
Tara's latest role at Fangtasia? Go-go dancing. Her mama showed up. Her mother said she'd put her in a terrible situation. "I'm a minister's wife. From this day forward, you are dead to me, baby girl. I came to say good-bye." But Tara said her mama would be seeing her again. No worries. She had her new mama Pam to watch out for her. "A hundred years from now, you won't even remember her – this I promise you." Then she ordered her back to the stripper pole.
At the Authority, Salome fed her colleagues some crap about Lilith forgiving Russell for his actions. He was fully on board with praising Lilith. Nora said that the blood of Lilith was not symbolic, but rather literal – and tonight every vampire in the room would drink from it. When one of the chancellors called it blasphemy, Russell simply decapitated the man. "We are of Lilith, Lilith is of God. May she reveal herself to us tonight." So they all took a sip, including Bill and Eric. Then they went to Bourbon Street, high off their asses amongst the humans, harassing them. They ended up at a human karaoke bar – where, still in their stupor, they slaughtered the masses. It was a full on massacre, a pool of blood from which Lilith arose, causing them to drink with renewed vigor. But as Eric indulged, the ghost of Goderich appeared, telling him this was wrong and he knew it. But his sister did not. He must save her.

"True Blood" airs Sundays at 9 p.m. ET/PT on HBO.