Paris Jackson Unveiled on 'The Ellen DeGeneres Show'
Her father, her anonymity and her new career
Michael Jackson went to extremes to keep his children out of the eye of the media and America, but Paris Jackson came to "The Ellen DeGeneres Show" Wednesday, and it sounds like the King of Pop knew this day would come. Paris opened up to DeGeneres about her father, her acting dreams and the role she's landed in the upcoming big screen adaptation of "Lundon's Bridge and the Three Keys."
Bing
:
Watch clips of 'The Ellen DeGeneres Show'
|
More about Paris Jackson
Back when Michael Jackson was hiding her from the world, Paris Jackson thought it was as strange as the rest of the world did.
"I'm like, 'This is stupid. Why am I wearing a mask?'" she admitted during her visit with DeGeneres, which she landed after
Lindsay Lohan was a no-show
. "But I kind of realized the older I got, like, he only tried to protect us, and he'd explain that to us, too."
As odd as it seemed to walk around veiled in blankets and masks, the anonymity paid off when Paris joined the real world, leaving behind home-schooling to clock in as a student at Buckley School in Los Angeles.
Two years after her father's death, the 13-year-old even claims to have a "regular" childhood. "I'm treated the same," she told DeGeneres. "When I came to Buckley, they didn't know who I was. I was like, 'Yes, I've got a chance to be normal!'"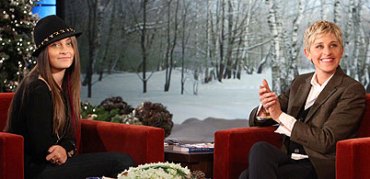 Paris, who was a bit shy when Oprah Winfrey first introduced the Jackson kids to the world in November of last year, appeared much more comfortable on "Ellen," which is good, considering she's planning to spend even more time in front of the camera.
Jackson's only daughter has landed the lead in the upcoming live action-animated film "Lundon's Bridge and the Three Keys," based on the young adult fantasy book series by Dennis H. Christen. The film, which will feature the voices of Larry King and Joey Fatone, has been a work in progress for years, but is getting renewed attention thanks to the Jackson name.
One can't help but think this sounds like the very thing her father was trying to avoid, but Paris told DeGeneres that Michael not only inspired her desire to act, but also helped her train. 
It was his performance in "Moonwalker" which first gave her the itch. "I knew he could sing really well, but I didn't know he could act. I saw that and I said, 'Wow, I want to be just like him,'" she revealed.
Her father seemed to approve. "We would do 'improv' together. He would give us little scenarios." Paris said. "He would say, 'O.K., in this scene you're going to cry,' and I'd cry on the spot."
When asked about the biggest lesson learned from her father, however, Paris kept her answer broad.
"He said, 'If I die tomorrow, always remember what I told you,'" she recounted. "And I took his advice, and I remembered everything he told me."
Paris Jackson's appearance on "Ellen" will air Wednesday, Dec 14, in syndication. Check local listings. If you miss the episode this afternoon, check back for an updated video.