'Pretty Little Liars' Talking Points: Black Swan Revealed!
'A' ups the ante as the girls manage to rule out another suspect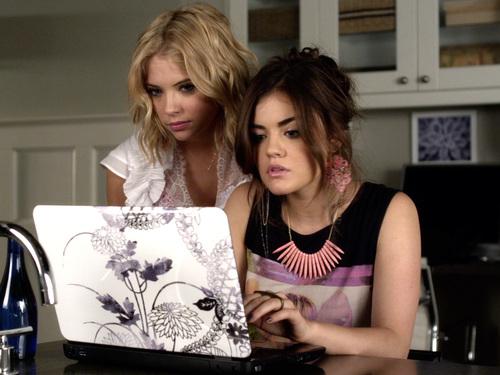 Last week on "Pretty Little Liars," the fearful foursome finally found out that Jenna wasn't blind. But she asked them to keep her secret, lest she become a target. So if she isn't A, who is?

Bing: More on "Pretty Little Liars"


This week, the girls deliberated some more. "All roads lead back to the Black Swan," Spencer said. At which point, Hanna suggested perhaps she was Melissa, who'd apparently lost her baby far before she said she had.
Then Jason showed up and asked Veronica Hastings how she could defend Garrett Reynolds – when he killed Jason's sister Allison. Spencer asked if Jason was okay, and he told he would be. That's when they saw the flyer offering $50000 for information about Allison's death – and got a text from A, noting: "Imagine what I could do with fifty grand?" 
Spencer told Jason he was asking for trouble. "I can tell when someone's lying," he said. "Can you?" He said her mom was lying – she didn't want to see the Hastings name get tarnished.
Emily got a new job at a high-anxiety coffee shop where she ran in a new hottie – Maya's cousin Nate, a student at Hollis. "I never got to say good-bye," Emily told him. He had a package for her – from Maya. It was a T-shirt from the movie they saw on their first date. She learned that Nate was a fellow swimmer. "She talked about you all the time, said you were her first real love," he said. "I'm glad I finally got to meet you." She gave him a letter for Maya's parents, and said he might leave Rosewood. She reminded him that Maya would want him to embrace the good. He suggested she take her own advice. "If you do end up staying," Emily said, "know that you have a friend."
Aria lamented the fact that her dad was dating Meredith again – and that his new aftershave smelled like baby wipes. She was worried about how her mom would react. She made plans with her mom for Sunday. She also suggested her mom get out more. But Ella didn't bite. So she went online, hoping to find a new guy for mom. "Should I be worried?" Hanna's mom asked when she spied them looking at old men online. "Tell your mom to look at mainline mate. It's a much better site." So the girls created a profile for Ella – Hot Mama. Yuck.
At the coffee shop, Ashley ran into Ella and asked if she'd met anyone fun online. "I haven't been on a date since George Clooney was on ER," Ella said. Ella didn't know she was on the dating site. She wanted to delete the profile, but Ashley convinced her not to. "Dating is not even on my mind – I'm just trying to adjust to all the changes," Ella said. Ashley told her that before she realized it, she'd be handling things just fine.
Hanna went back to the loony bin to visit Mona, but found out that her crazy pal was no longer allowed visitors. She called Ren to see what was up, and he told her Mona freaked out after a visit from a guy last week. Caleb confessed that it was him, and he told Mona to stop messing with her. But Hanna said she was going to talk to her again. "You need to stay away," Caleb said. But she told him to stay out of it. Later, she talked to Aria about it – and Aria suggested she tell Caleb about the new A.
Hanna had other plans though. She snuck into the loony bin to see Mona, but instead saw Detective Wilden there to chat with the crazy. Ren spied her, though, and told her Wilden was asking about Allison's missing remains. 
Hanna told the girls, and again Melissa's name came up.  Spencer had enough – so she suggested the girls go to Philly to confront her. While Spencer met Melissa for coffee, the rest of the girls broke into Melissa's apartment and rifled through her stuff. But Melissa forgot her wallet – and the girls spied her just before she spied them. After some frantic cleanup, they managed to hide in the closet. But of course, that's where the wallet was. Close call. The girls wanted to leave, but found a dress in a zippered bag. Not the black swan costume. But at the bottom of the bag – a blue feather.
"If the feather fits," Hanna said. So Spencer said she'd go back to Philly. But the girls wouldn't let her go solo. But when Spencer got home, Melissa was there – holding a huge knife. She said she came home to support their mom in the face of Jason's hostility. That's when Spencer dropped the bomb about knowing she was the Black Swan. Melissa told Spencer that she lost the baby the day after she found Ian's body – and that she'd tried to tell her. But then she thought maybe Spencer was the one who'd been sending her crazy texts. The fake pregnancy? "It was too much," Melissa said. "My whole life was in the papers, I couldn't deal with this getting out there too. At least that's how it started." That's when their mom showed up – and she wanted to know why Melissa was the black swan, too.
Turns out she was being blackmailed – and was sent the dress with a note to wear it to the ball, or A would reveal the miscarriage to all. "Garrett had just been arrested, I was scared, and now someone was blackmailing me." The note told her to distract Jenna at the ball. Melissa presumed it was from Mona – she never got another text or note once the girl was dragged off to the loony bin that night. Spencer asked her mother who else knew Melissa was faking it. Her dad. And Garrett. So Garrett was blackmailing Veronica.
Hanna got a text from A – "I'm everywhere, Hanna." A photo of a car wreck, an EMT with Montecito emblazoned on his uniform. Caleb's mom was in a car accident – she felt like someone was trying to run her off the road. A's threat worked. Hanna couldn't bring herself to tell Caleb about A. But Caleb had enough. "There's no more A. So why are you lying to me now?" He was out. "I can't do this anymore," he said. "I feel like I only exist in half of your life – and that's not good enough for me."
Ella told Aria she saw the online dating profile. She realized Aria was just trying to help. She told Aria she knew her dad was dating Meredith again. And she was okay with it. Ella ensured her she wasn't lonely or dying for companionship. She wanted to focus on herself first. One thing though: "Hot Mama, really?"
Out for a walk, Spencer ran into Jason. He told her he got 200 calls about Allison's death. "It's all just lies," he said. Spencer told him she couldn't wait to get out of this town. "You can leave Rosewood, but Rosewood will never leave you," he added. He got a text, then bailed. Once Spencer left, he wrote a check for $50000 – and called someone, telling them to meet him in the parking lot in 15 minutes. A few minutes later, Spencer ran into Detective Wilden. He asked her how far her parents' lake house was.
Cut to: Montecito airport, an open laptop, a gloved hand. Someone perusing the Radley mental health center site, accessing Mona's records – and changing no visitors to visitors permitted.
Plus: TV's most awkward teens | TV's boys of summer
So once again we're left with more questions than answers – and given the fact that Jenna finally comes out as not blind when the show returns in two weeks, maybe all the suspects we've managed to rule out so far aren't really ruled out at all.

Who do you think A is?

"Pretty Little Liars" airs Tuesdays at 8 p.m. ET/PT on ABC Family.
Are you sure you want to delete this comment?