'Live! With Kelly' Co-Host Shortlist May Be Premature
Is it too soon to call Seth Meyers, Josh Groban and Michael Strahan the final three?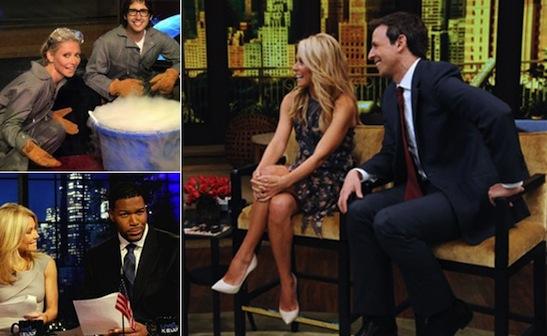 Seth Meyers is the first "Live! With Kelly" guest co-host to spend an entire week with Kelly Ripa since Regis Philbin's exit. Couple that with the talk show's approaching September deadline for choosing a permanent host, and it's no surprise the industry is tittering about front-runners. Calling Meyers, Josh Groban and Michael Strahan the "final three," however, may be a bit premature. Less than two weeks before that story broke, executive producer Michael Gellman insisted it was too soon to be talking shortlists.
Bing: More about 'Live! With Kelly' | More about Seth Meyers
This newest round of chatter started after Showbiz411 ran an exclusive story tapping Seth Meyers, Josh Groban and Michael Strahan as the frontrunners to take the permanent seat on "Live! With Kelly" on July 5. 
Any "Live! With Kelly" fan can see those three are indeed frontrunners, as they've been invited back time and again and given streaks of shows to co-host. But the "final three" story may be getting ahead of itself.
In the Daytime Emmy press room on June 23, "Live! With Kelly" showrunner Gellman insisted "Live! With Kelly" was "always getting closer," but wasn't in a rush to make a decision.
"We're having people back who we're liking and we're taking names off the list, but we're not in a real time crunch," he said. "We want to find somebody, but we're going to wait till it's right. I still wouldn't call anything a shortlist yet, but we're finding people we love, the ratings are holding up, Kelly's doing terrifically with all these cohosts, so we're continuing."
Also: The brows of summer | Also: Summer TV report card
Gellman also revealed the key factors in choosing a new permanent co-host for Kelly Ripa. "It's a million things we're looking for, but obviously someone who compliments her, someone who has chemistry with her, someone who can handle the show on their own when she's away with a new host and someone who's going to grow with us, just like she did 12 years ago when we found Kelly," Gellman said. "She's ended up being a terrific talent and hopefully, she's leading the show for the next 20 years."
In short, while "Live! With Kelly" is clearly shaving down the list and those three seem to be in the running, it may be too soon to be using the phrase "top three." Then again, this is a Hollywood. "Live! With Kelly" may even have made its decision, but keeping the search alive and mixing things up with co-hosts like Kevin Jonas, Tyler Perry, Neil Patrick Harris, Andy Samberg and Jerry O'Connell certainly isn't hurting the ratings.
"Live! with Kelly" airs weekday mornings in syndication.