Look Who's Talking in Daytime: July 2 to July 6
Fourth of July, blockbuster movies and getting bikini ready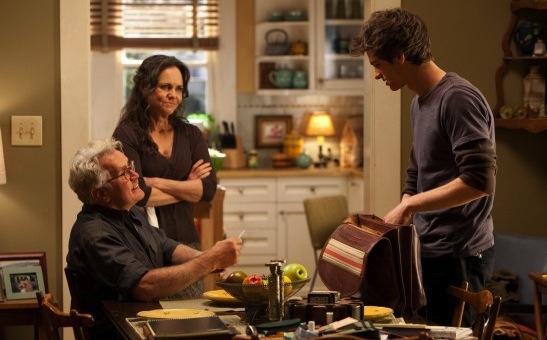 Daytime the week of July 2 promises bikini secrets and summer segments, as well as repeats of interviews you may have missed the first time around. There are also a few Fourth of July parties on the schedule Wednesday. Big screen stars from "The Amazing Spider-Man," "Savages," "Magic Mike" and "Ice Age: Continental Drift" are making the rounds. Prime-timers are promoting "Royal Pains," "Damages," "Web Therapy," "Married to Jonas," "Real Housewives of New Jersey," "America's Got Talent," "Jane By Design," "Big Ang," "Trust Us With Your Life," "The Locator" and "Unwrapped." Other notables coming to daytime include Alison Sweeney, David Arquette, Kevin Nealon, Melissa Rycroft and Denise Richards. Plus, don't miss performances from Demi Lovato, Flo Rida, Foster The People, Will.i.am and Eva Simons and Haley Reinhart.

Bing: More about 'The Ellen Show' | 'GMA' | 'Today" 
 Schedules are subject to change.
"Anderson"
* Repeat Week *
Mon: Adam Levine
Tues: Life Shattering Scams
Wed: hypnotist Paul McKenna
Thurs: a real teen mom, John Quinones
Fri: Joan & Melissa Rivers, hoarder Mom


"Bethenny"
Mon: Howie Mandel, a shirtless "Magic Mike" surprise
Tues: Olivia Munn, Alison Lozoll
Wed: Denise Richards
Thurs: David Arquette, Jillian Reynolds, Kevin Nealon and wife Susan Yeagley and Melissa Rycroft and husband Tye Strickland
Fri: Alison Sweeney
"The Ellen DeGeneres Show"
* Repeat Week *
Mon: Andrew Garfield, Edie Falco, Mo Isom
Tues: Emma Stone; Kenny Chesney and Tim Mcgraw perform
Wed: Taylor Swift, Abigail Breslinl; Foster The People performs
Thurs: Katy Perry, Sophia Grace and Rosie; Alanis Morissette performs
Fri: Kate Walsh, Christopher Plummer, Sophia Grace and Rosie


"Good Morning America"
Mon: TBA
Tue: TBA
Wed: TBA
Thurs: TBA
Fri: Demi Lovato performs
"Live! With Kelly"
Mon: Sally Field, exotic rainforest animals; guest-host Michael Strahan
Tue: John Travolta; Will.i.am and Eva Simons perform; guest-host Tyler Perry
Wed: Fourth of July Party with Blake Lively and Cody Simpson; guest-host Kevin Jonas
Thurs: Salma Hayek, Rhys Ifans; guest-host Carrie Ann Inaba
Fri: Rose Byrne, Caroline Manzo; guest-host Mark Feuerstein

"The Rachael Ray Show"
Mon: Buddy, Kyan, Carter and Zanna
Tues: Gretta's Bathing Suit Guide, Cynde Watson
Wed: Adam Perry Lang, Marcus Samuelsson
Thurs: Buddy, Carter Oosterhouse
Fri: Kyan Douglas, Sara Moulton, Sabrina Soto
"The Talk"
* Repeat Week *
Mon: Betty White; Mehcad Brooks
Tues: Howie Mandel
Wed: Marie Osmond, Marilu Henner
Thurs: Mary McCormack
Fri: Rita Wilson
"Today"
Mon: Sally Field, Jenna Wolfe
Tues: Martin Sheen, Howie Mandel
Wed: Lisa Kudrow
Thurs: no celebs on the docket
Fri: Travel & Leisure's 2012 World's Best Awards, Howie Mandel; Flo Rida performs
"The View"
Mon: Lisa Kudrow, Angela "Big Ang" Raiola, Dr. Steven Lamm, Peter Greenberg 
Tues: Teri Hatcher, Marc Summers, Dr. Doris Day, Keke Palmer
Wed: (repeat) Paula Deen, Jamie Oliver, Dr. Oz and Dr. Sam Klein
Thurs: Troy Dunn
Fri: Wayne Brady, Harvey Weinstein; guest co-host Andy Cohen; Haley Reinhart performs

"The Wendy Williams Show"
* Repeat Week *
Mon: Margaret Cho, Deborah Norville, Kevin Harrington
Tues: Joan Rivers, Gary Owen
Wed: Kim Coles, Countess Luann de Lesseps, Lori Bergamotto
Thurs: Corbin Bleu, Kathy Najimy, Tami Roman
Fri: Kristen Johnston