PTC enraged over 'The Walking Dead'
Parent group says drama needs a mature audiences' rating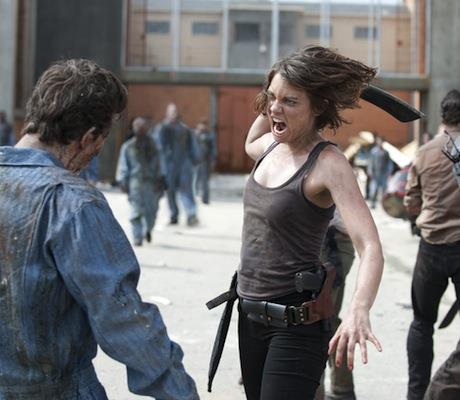 If you think "The Walking Dead" became a hit when 15.2 million people tuned in to watch the mid-season finale recently, you're wrong.
A more accurate cultural barometer is the disapproval of the Parents Television Council. The often mocked group, which goes after only popular fare, slammed the zombie drama Thursday for its "blatant misrating" as a TV-14 offering. Instead, the group argues, "The Walking Dead" should be rated TV-MA because of its violent content and language.
Bing: More on 'The Walking Dead' | Parents Television Council
"Throughout its run, the AMC program 'The Walking Dead' has featured some of the most graphic and brutally intense violence and gore imaginable," said PTC President Tim Winter, in a written statement. "In the current season alone, the show has depicted hundreds of scenes of grisly murder both of living and 'undead,' but human, characters."
Plus: Goriest 'Walking Dead' moments | 'Homeland' Season 2: most shocking moments
And you know in that one episode, where Rick (Andrew Lincoln) kills a prisoner with a machete, or that other one, where Glenn (Steven Yeun) stabs that guy with a zombie bone? Yeah, the PTC didn't like those scenes.
"The intensely violent content has included depictions of the cleaving of human skulls with a machete," Winter continued. "Extreme gun violence including graphic depictions of blood and brains splattering after gunshot wounds and the use of a sharpened human bone as a weapon to stab another character."
Winter added that the word s--- is used excessively and "this is content appropriate to an adult-only audience, but AMC has rated every single episode of 'The Walking Dead' as suitable for a 14-year-old child."
So what is it that the PTC wants? The group, which has 1.3 million members, wants AMC and former Senator Gordon Smith, who chairs the TV Parental Guidelines Monitoring Board, to make this a TV-MA show. AMC and Smith have yet to comment.
But here's the thing: Such a rating might make the show seem even cooler and more 14-year-old viewers will probably tune in.
Season 3 of "The Walking Dead" continues Sunday, Feb. 10, at 9 p.m. ET/PT on AMC.