'Justified': We Got Our Own Way Of Living
'The Spoil' brings together many plot threads and sharply amps up the action.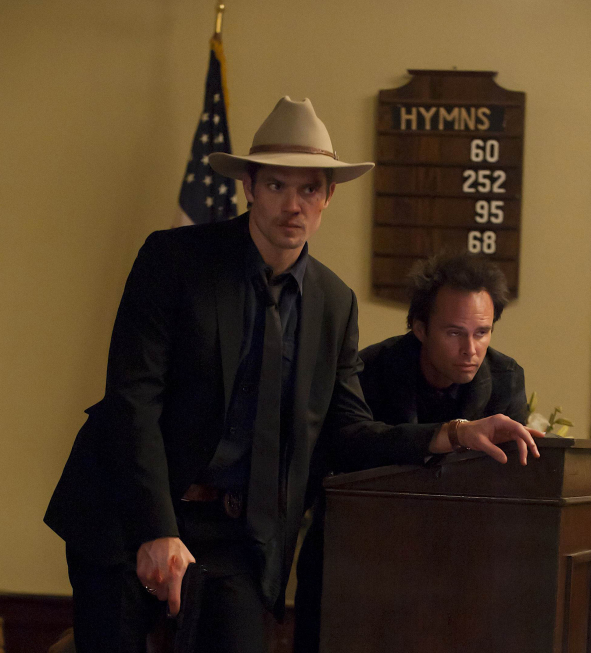 Right from the beginning, "Justified" has toyed with the ideas of good guys and bad guys, of heroes and villains, of the people that the audience will cheer on or root against. Granted, Raylan has always been essentially the White Hat, and he has been the moral compass of most of the action. But even he has a temper, and a self-destructive streak that gets him into various scrapes (usually while he's drunk).  And our antagonists – Boyd Crowder, Arlo Givens, those crazy Bennetts – sometimes seem to stumble almost blindly into doing the right thing, if usually for the wrong reasons.
"The Spoil" took a group of vivid characters with divided loyalties and ambiguous motives through a series of encounters with escalating tension and violence, climaxing in that electrifying town hall scene that was more of a church revival at certain points. Carol Johnson and Black Pike Coal are indeed bringing jobs and an influx of money to a poor community, while setting up that same community to be environmentally destroyed by the insidious practice of mountaintop removal. Mags talks a good game about protecting the special hillbilly Kentucky lifestyle, but in reality, she is acting on unknown but obviously sinister motives, and she and her sons have no compunction about using violent intimidation to get their way. Boyd is going about his "duty" as a Black Pike employee, gently soliciting Harlan folks to sell their land to the coal company, and praising them for giving him a much vaunted "second chance" but his heart and mind are more focused on ferreting out what the Bennetts are up to. And Raylan is ready and willing to protect Carol from her unhinged sniper stalker, but still can't help opening his "coal miner loving mouth" and cooling pointing out the hypocrisy of Black Pike's actual working conditions. It all makes for a volatile mix of conflicting agendas, which may come to a bit of a head next week at the "whoop-dee-do". Make sure to wear something pretty.
Essential viewing to explain the background of all this chat about coal companies and their "gun thugs": Barbara Kopple's classic "Harlan County USA"
This is a really gorgeous looking show, particularly the lighting in the opening batting cage scene.
OK, so Art knows. Winona doesn't seem too bothered, but it was touching to see Raylan feel so guilty.
"The only thing we're on the same side of is, like, this car."
"It's not easy being a strong woman. Take it from me."
Coover keeps skating up to the edge of "Lenny and the rabbits" territory.
"It's nice to see the work you've done on your boys' self-esteem has paid off."
I know that backwoods Kentucky medical care twenty-five years ago wasn't the greatest, but would a grown man still have such a pronounced limp?
Somehow Rebecca Creskoff makes Carol's straightforwardness bold and sexy rather than totally off-putting. ("My heart's still pounding. Wanna feel?") And please note Raylan's response to her point-blank invitation to bed: "Yes……I appreciate the offer, but…" Hmmm.
That was a damn exciting shoot-out at the Givens house.
"I lied."