Rosie O'Donnell taps in at 'Anderson Live'
NeNe Leakes co-hosts, James Spader talks 'Lincoln' and Cooper reports from Gaza
With Anderson Cooper on location in the Middle East, former daytime star Rosie O'Donnell tapped in as the first "Anderson Live" guest host on Monday, Nov. 19. Cooper joined in from Gaza via satellite with the latest on the conflict, while NeNe Leakes served as O'Donnell's co-host. Guest James Spader talked "Lincoln" and becoming a parent again.
Bing: More on Anderson Cooper | Rosie O'Donnell | Gaza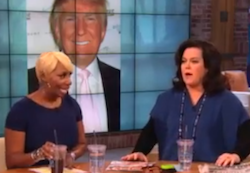 At the top of the show, O'Donnell and Leakes bonded over haters on Twitter. It seems some folks in the Twittersphere didn't like the idea of O'Donnell tapping in for Anderson. O'Donnell was offended by the negativity, and Leakes could relate.
"I get a lot of mean tweets," Leakes admitted. "Sometimes, I get people that are really outspoken and saying really negative things. If they say something like, 'Nene I didn't like your shirt,' I'm cool with it. When they start going really negative, I press block."
Plus: Thanksgiving viewing guide | TV's changing tides
O'Donnell noted that she blocks them too, but not before dissing them, earning applause from the audience. Leakes revealed she sometimes gives haters a piece of her mind, privately, via Direct Message.
"If they're following me, then I DM them a really nasty message," Leakes explained. "I follow them for a second, DM them and then I un-follow them and block!"
Some time was taken to discuss O'Donnell's transition to a healthier lifestyle. "Feeling a lot better, thank you," Rosie explained her health status after suffering a heart attack in August. "I got my number yesterday, I am way up there. I don't mean weight, I mean like good like blood pressure and I've lost like twelve pounds. We are going for a pound a week." She continued, "I keep telling everyone I had a heart attack and my kids are like, 'Will you shut up already?' And I am like, 'No, I had a heart attack.'"
The co-hosts also talked about Madonna's concert, Kelly Ripa and Donald Trump. They also talked to Cooper, who delivered a 10-minute report on the tension in Gaza, before O'Donnell invited James Spader out.
Spader dished his highly anticipated new movie, "Lincoln," and also opened up about being a new dad at 50. He has two adult children -- Sebastian and Elijah, 23 and 20 -- as well as a new 4-year-old. When O'Donnell revealed she's considering adding to her brood, as well, Spader was all for it.

"You sort of vacillate between being on your back and on your toes," Spader said of parenting at 50. "I'm slower. But you do have a different perspective. I'm not sure what it is, yet, because I'm so subjective. Also, the reasons to take you out of the home or be away from him are different."
Later, O'Donnell investigated the trend of platonic couples and strangers uniting to have a baby in what is being dubbed the real-life "new normal."
"Anderson Live" airs weekdays in syndication