Will 'General Hospital' reunite Jax and Brenda?
Ingo Rademacher and Vanessa Marcil come home for soap's 50th anniversary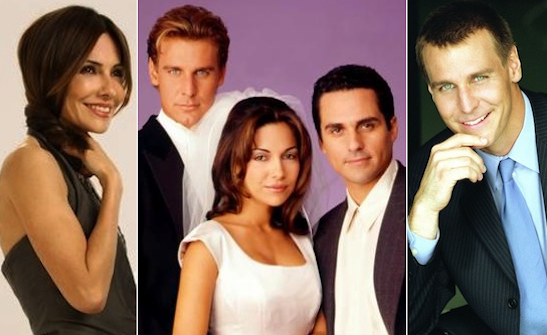 "General Hospital" has been gearing up for its 50th anniversary by bringing back old-school favorites like Genie Francis, Kin Shriner and Rick Springfield. Now, fans can add Vanessa Marcil and "Dancing With the Stars" contender Ingo Rademacher to the list. Brenda and Jax will be back in Port Charles by the show's April 1 birthday, and word is their extended stay will reignite the Jax-Brenda-Sonny love triangle. 
Bing: More about "General Hospital" | Vanessa Marcil | Ingo Rademacher
That historic triangle goes back to the '90s, but the last time Marcil returned to "General Hospital," it was all about Sonny. 
"To be able to bring these two characters back together is the reason I came back," Marcil told MSN TV in 2010. "Working with Maurice [Benard] is like dancing to music. It's joyful, spontaneous and gets down into every part of your body like a good song does."
Plus: 10 reasons we now hate 'Glee' | What's your Bravo personality? | 'Dancing With the Stars' cast
Sonny and Brenda finally tied the knot during that run, but their marriage didn't survive the discovery that Brenda's stillborn son Alec was actually alive. Brenda was worried about raising her son in the mob world and there was also tension over the couple's relationships with Jax and Carly. Brenda ultimately split town when she learned Sonny had set up Jax and after Jax flew her and Alec to Rome, Sonny received divorce papers.
Jax is also a recent divorcee. He left Port Charles in 2011 after his marriage to Carly fell apart, but was seen in town twice last year. The first time, he tried to kill Sonny. The second, he had to help save everyone from his devious brother. Once Jerry was handled, Jax and Carly finalized their divorce and he returned to Australia. 
EW first broke the story of Jax and Brenda's return and from the report, it sounds like the pair will either come home together or come together once they get back to town. Rademacher will be playing double duty as a contender on "Dancing With the Stars," and it's not clear where Sonny and Kate/Connie fit into things, but Marcil would likely enjoy seeing Brenda/Jax reunite romantically. 
"When you look at the Brenda/Jax scenes from years ago, they were pure joy," she told MSN TV.
She's staying mum on what's in store for her character this time around, though she has spoken out on her return. Apparently, it didn't take much to talk her into coming home. 
"I've always respected that the show is the star," Marcil told Soap Opera Digest. "I like Frank [Valentini, executive producer] a lot and I think he is amazing. I'm up for doing anything, because as an actor, it's always exciting. I'm so honored that they've let me come in and come out; I just really respect what they think is best for the show. So if Brenda fits into that somewhere, of course, I'm always really excited about that." 

"General Hospital" airs weekdays on ABC.