Get Ready for Lifetime's Reboot of 'Steel Magnolias'
Queen Latifah leads cast of familiar faces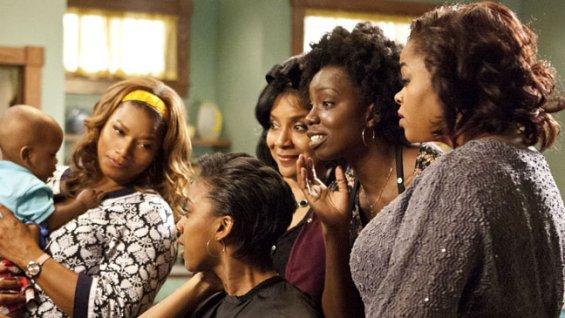 It wouldn't be right to compare the cast of Lifetime's updated "Steel Magnolias" to the original cast from the much beloved 1989 movie.
After all, these are completely different actresses  -- for starters, this cast is predominately African-American -- and it's a different time and the piece has been modernized. That said, it's a shame that all of the women in the new, made-for-TV movie are pitch perfect in their roles, save one: Queen Latifah.
Bing: More on the original 'Steel Magnolias' |  Lifetime's 'Steel Magnolias'
It's a sentiment that overshadowed a recent press junket/tea party for "Steel Magnolias," in which the majority of the reporters in attendance basically kept asking the same question in persistent but polite ways: Why is Queen Latifah starring as M'Lynn?
Here's the thing, Queen Latifah, 42, is a credible actress. But she's just not convincing as M'Lynn, a mother of a twentysomething bride. No, she shouldn't try to be Sally Field. And yes, biologically Shelby (Condola Rashad) could be her daughter, but her performance feels more like that of a big sister than a doting mom.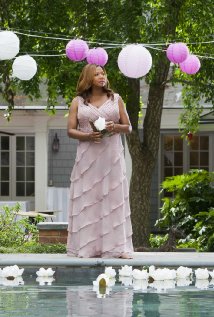 Secondly, it's Queen Latifah, nee Dana Owens, who leads the cast and is one of the flick's executive producers. With that in mind, Queen Latifah helped to cast the other roles and maybe she should've cast someone like Angela Bassett, Loretta Devine or S. Epatha Merkerson to play M'Lynn instead.
Plus: TV heroines that need to be saved | TV's greatest sidekicks
Lastly, even Queen Latifah said she was worried about having the gravitas necessary to play M'Lynn.
"I saw the movie, and I loved it," Queen Latifah said at the junket. "I almost panicked when (fellow executive producer Craig Zadan) called me because I thought Sally Field was so incredible.
"And then I let that go because I trust these guys and we just had to go to work on getting a great cast."
Also: Film producer sues Lifetime over 'Steel Magnolias' remake
Knee jerks aside, it is a great cast.
Veteran actresses Phylicia Rashad and Alfre Woodard steal most of the scenes they're in as Clairee and Ouiser respectively. Jill Scott gracefully portrays Truvy and relative newcomers Rashad (Phylicia Rashad's real-life daughter) and Adepero Oduye are refreshingly earnest. Oduye costars as Annelle.
Most importantly, even if you've seen the play and the film version dozens of times, the end will still make you cry.
"Steel Magnolias" premieres Sunday, Oct. 7, at 9 p.m. ET/PT on Lifetime.
Are you sure you want to delete this comment?