'That '70s Show' Meets 'Men at Work'
TBS releases first pics of Laura Prepon reuniting with Danny Masterson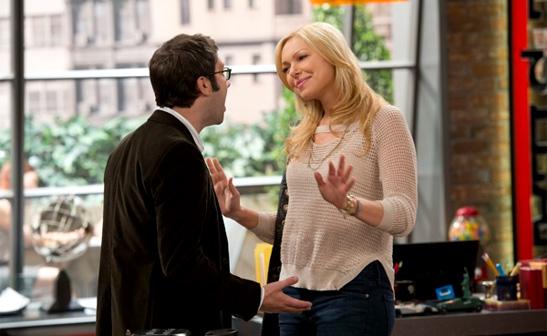 Realistically, a full-fledged "That '70s Show" reconvening isn't happening any time soon. Ashton Kutcher's doing his best
Charlie Sheen
impersonation over on
"Two and a Half Men,"
Mila Kinus
is doing a very convincing job at transitioning to big-screen hotshot, and Topher Grace is doing, well, whatever
Topher Grace
 does.
But it just so happens that Danny Masterson's got a currently airing show on TBS, "Men at Work," while his "That '70s" buddies Wilmer Valderrama and Laura Prepon are both looking to bounce back from canceled NBC series (
"Awake"
and
"Are You There, Chelsea?"
respectively). Whether that last detail's coincidental or not, both put in time as single-episode "MAW" guest stars. Valderrama's appearance aired earlier this week, and next Thursday marks Prepon's drop-in as Hannah, a possible love interest for Masterson's mopey bachelor, Milo.
TV Line
got their hands on some snapshots of Prepon as Hannah, and as you can see from the pic below, she and Milo begin their courtship the way all successful romances commence: in a harshly lit office surrounded by several other men. Whether or not their characters' attraction lasts, Masterson's gotta be hoping the buzz surrounding Wimer and Laura's fly-bys will ensure his relationship with TBS is a lasting one.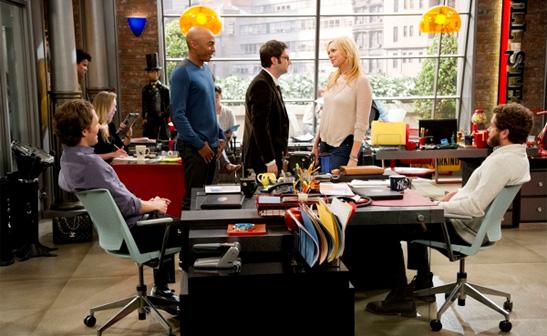 "Men at Work" airs Thursdays at 9 p.m. ET/PT on TBS.