Could 'Entourage' have existed without Vince?
Producers, actors reveal casting fun facts, surprising show secrets and more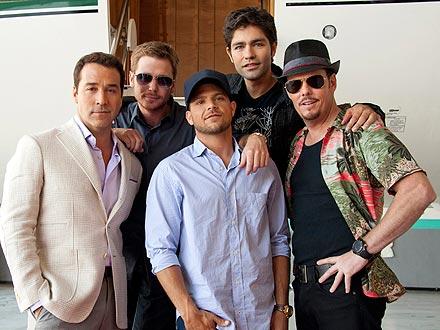 For eight seasons, the stars of HBO's inside-Hollywood comedy, "Entourage," gave fans a fantasy world filled with women, fun and friendship.
But could the show have existed without Vince (star Adrian Grenier)? When creator/executive producer Doug Ellin and the other EPs were first casting the show, finding the right guy to play Vince proved so difficult network executives wondered if the show needed a Vince at all.
Bing: More on 'Entourage' | Adrian Grenier | Doug Ellin | Mark Wahlberg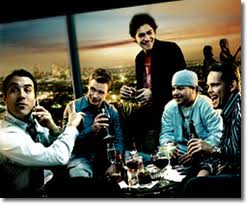 "HBO just did not believe we could cast a movie star," Ellin said in an interview included on the "Entourage" series DVD set, which hit stores this week. "So they would keep telling me to minimize the Vince role."
Plus: Seth MacFarlane's hyperactive life | Fall mid-season report card
Ellin said he and HBO even flirted with the idea of making Vince a character that was never seen on camera. But luckily for Grenier, his audition went well, he had great chemistry with Kevin Connolly, who played Eric aka "E," and he got the part. 
Ellin added that the fantasy element of "Entourage" wasn't just hot ladies and glamorous homes and cars. It was also the idea that these guys could have one another's backs for life.
"The ultimate wish fulfillment for men," Ellin said, "is to have friends, when you're older, who you still are tight with like you were when you were in high school."
Interestingly enough, while the show is loosely based on the life of movie star Mark Wahlberg and his close circle of friends as well as Ellin and his friends, Ellin was inspired by the flick "Swingers", and even named Vince after star Vince Vaughn.
Other fun facts and secrets revealed on the DVD:
Connolly almost turned down the role of Eric but Wahlberg convinced him to take it.
Jerry Ferrara, who played Turtle, was so young -- he was about 23 when he got the role   -- that he almost got rejected despite being perfect. The compromise? Producers made him grow a beard.
Kevin Dillon was almost 40 when got cast but was the only person producers wanted to play Johnny Drama.
Johnny Drama is based on Wahlberg's cousin, John Alves, who is featured on the DVD.
Eric is based on Wahlberg's former assistant, Eric Weinstein , who is also on the DVD.
Ellin wrote 70 drafts of "Entourage" and worked on it for two years before HBO shot the pilot.
Critics have accused "Entourage" of being misogynistic at times, but the comedy has had two women staff writers. This includes Ally Musika, one of the executive producers, who started writing for the show in 2006. 
Ari (Jeremy Piven) is based on real-life super agent, Ari Emanuel, but unfortunately, the real Ari is not featured on the DVD.
As for the "Entourage" movie, which is not addressed on the DVD, Ellin has written the script and Wahlberg has said he hopes to start shooting in the spring of 2013.
The "Entourage" series DVD (HBO, $249.99) is available in stores.