James Scott Out at 'Days of our Lives'? Not Yet!
Bad news for EJAMI fans: EJ may be heading out of town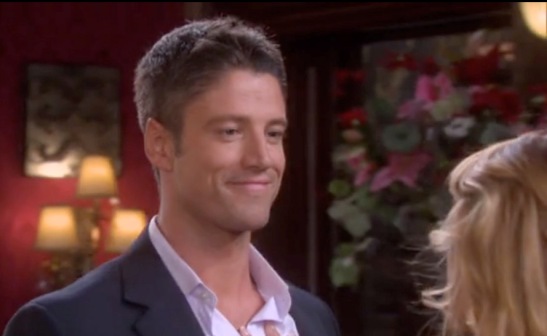 With "Days of our Lives" in the first week of its much-hyped reboot, word is spreading that local fave James Scott (EJ) is leaving the show when his contract expires, but MSN TV hears that news is premature.
Bing: More on "Days of Our Lives" | Watch full episodes and clips

Sources told Soap Opera Digest that James Scott didn't sign a new deal after contract negotiations hit a wall, and that means he'll be walking. MSN TV sources, however, reveal negotiations are still ongoing. That means it's all still up in the air.

Scott's possible exit isn't entirely out of left field. The Daytime Emmy nominee revealed back in December that he had an itch to make a serious move and warned he might even decide to quit acting all together. "I think I'm going to stay here for a little bit longer," Scott told TVGuide Canada. "We got the pickup and my contract is for a little longer. Then I'm going to wait to see what happens ... I certainly would enjoy the opportunity to work in other mediums like film and stage, but at this particular point I'm just waiting to see what happens. I'm not making any real commitments in terms of which direction I'll follow -- or even one direction, because I'm not sure if I will continue to act, which is very likely."

Since joining "Days of our Lives" in 2006, Scott has been locked in onscreen romantic entanglements and psychotic machinations with Alison Sweeney's Sami and Arianne Zucker's Nicole. While being a key component in the EJAMI/SAFE (EJ & Sami vs Sami & Rafe) love triangle, his nefarious character EJ, son of villainous Stefano, recently announced his run for mayor.

While many fans would be crushed by Scott's exit, the big "Days of our Lives" reboot puts the show in a unique position to roll with the news, should it come to that. "Days of our Lives" recently shook things up with a slew of returning and new characters, as well as changes to the writing and producing teams. In the wake of the final episode of "All My Children" on ABC, that much-hyped reboot launched Monday with a big event on the fancy new Horton Square set.

At the same time, with the soap genre on the decline, "Days" is using the re-launch to attract "soap orphans" whose shows have been or will be canceled. The new mini-site Days101.com serves as an immediate immersion into everything Salem, including family trees and features on the returning characters.

Scott's exit could fold into this season of change, if it comes to that, but it's likely "Days" would prefer to avoid going down that road. Stay tuned.
UPDATE: James Scott has released a statement about the exit rumor, and it's good news for fans: "It has always been my wish to continue working with 'Days of our Lives,' and in light of recent reassurances given, I am optimistic of my future here at 'Days.'"
"Days of our Lives" airs weekdays on NBC.