From 'American Idol' to 'The Young and the Restless': Diana DeGarmo Sings in a New Key
'American Idol' runner up talks about coming to daytime and the 'AI' judge who didn't get 'it'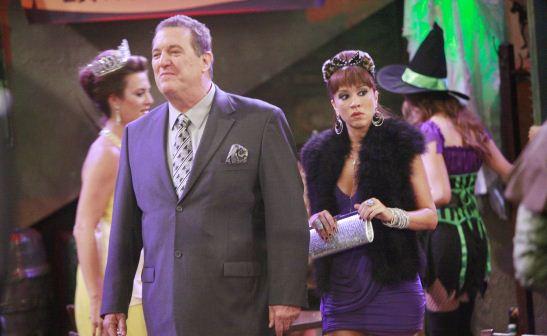 "American Idol" Season 3 runner up Diana DeGarmo is coming to "The Young and the Restless" this Halloween, Oct. 31, and her new character Angelina will be packing tons of tricks and treats for Genoa City locals. The young songstress may even prove there's something more dangerous than a mob wife or a "Jersey Shore" diva: a mob daughter! MSN TV caught up with DeGarmo, who dished on her new character, and also reflected on the "American Idol" judge she could have done without.
Bing: Watch episodes and clips of 'The Young and the Restless'

MSN TV: Is your new gig at "Y&R" a cameo or a legit role?
Diana DeGarmo: Angelina is going to make her mark in Genoa City, don't you worry. I am the weekly pot stirrer. She's spicing things up. You're not going to see me all time, so you're not going to get sick of me, but I'm recurring.
What's your character's story?
She comes with her dad, Angelo, a local mob boss. He's been out of town and is back visiting Genoa City. Angelina's is tagging along, but slowly but surely, she's taking over the scene. She's is a hoot and a half. She's a little over the top, but she's definitely got her real moments, which I love to be able to sneak in there and catch people off guard with.
Bing: More about Diana DiGarmo
Does she know her dad is in the mob boss?
Oh, she knows exactly what's going on and she doesn't mind. She likes throwing around her weight at any time. She loves the perks of being a mob boss's daughter. She lives for it. 

As a Jersey mob girl, is her wardrobe over the top, as well?
I come in [to wardrobe] and I just laugh as soon as I see where the outfit is going. It's like having a fashion show every morning. She has all the money in the world, but she thinks she needs to show it at all times. There are some things that I, Diana, would be too terrified to walk out of the house wearing, but Angelina is not afraid.

Once I'm transformed from head to toe, Angelina comes out so easily. I love watching the other characters react to her because she is such a surprise. She's so different from everyone else.

Who have you gotten to work with, so far?
I've had the great pleasure sharing the screen with Mr. Greg Rikaart. Angelina gets a little bit of a crush on Kevin, and she's not afraid not to show it. It's a blast, because she makes him incredibly nervous. We have to try so hard not to laugh when we're shooting because she is, of course, very zealous and Kevin is not so much when it comes to the female department. The sparks that fly on screen are just hilarious. It's wonderful to be a part of.

Word is Angelina is a horrible singer but still wants to go pro?

That was one of the things that casting was a nervous I would be afraid of, but I was gung ho about singing badly. It was fantastic and hilarious. Angelina thinks she is hot stuff, from head to toe, but has no idea that she sounds like a cat in heat when she sings, and neither does her dad. Angelo, who is played by the absolutely lovely Mike Starr, thinks his daughter is the cat's meow. The magic of Angelina's voice is its own storyline. It's going to lead to some exciting and fun moments in weeks to come.
Are you flattered that you were brought on for your acting, and not so you can belt out a song at Jimmy's every week?

I'm just excited that somebody's giving me a chance. Being on "Idol" is a double edge sword. There are so many Idols out there that are still trying so hard to get past the idea that we're only reality TV personalities, but I've been able to do that in the theater community. It's great that, finally, somebody believes I am more than just that. I'm really being supported and they're letting me create this fantastic character.
Are you in contact with any former "American Idol" contestants?

A few, actually. A lot of my "Idol" friends think what I'm doing is quite hilarious, but they're super proud. Eight years ago, I used to go to the CBS lot to film "American Idol," and now I go to the CBS lot, but to the other side of the building for "Young and the Restless." It's so mind boggling. It makes me realize how far I've come.
'Fess up: Are you jealous you didn't get to audition with the new "AI" judges?

Totally. I love the originals, but at the same time I love Jennifer Lopez and Steven Tyler. They've been fantastic additions to the show. I appreciate their critiques, because they are performers. Paula is definitely a performer and she can give a critique without ripping your soul apart, but sometimes, it comes from somebody where you're like, "And what do you do again? You've never sung in your life…" That can be daunting. I feel like they can come from a whole new perspective, but that one particular judge couldn't, if you get my drift.

"The Young and the Restless" airs weekdays on CBS.