Re-aired 'Chicago Fire' episode rattles New York town
NBC affiliate expresses regret over similarities to real-life tragedy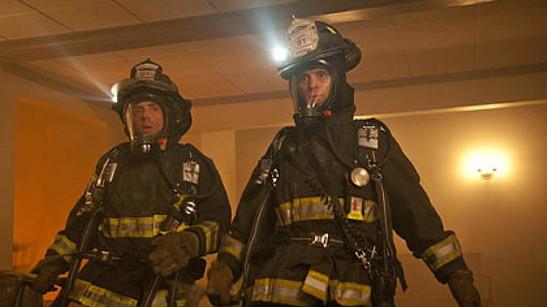 NBC's Rochester, N.Y., affiliate station has expressed regret for televising a "Chicago Fire" rerun bearing resemblances to a real-life Christmas Eve shooting in its coverage area, reports the New York Times.

Bing: More about 'Chicago Fire'
The episode, aired on Wednesday by the network, showed two firefighters drawing gunfire while trying to save the victim of a gang shooting. On Monday, two firefighters were shot to death in Webster, N.Y., by a man who set a fire as a trap.


The episode first ran in November and was chosen more than a week in advance for rebroadcast, the Times story notes. But when it aired, WHEC-TV apparently heard from offended viewers.

"We understand and regret the timing of this episode," read a statement from the station's general manager. "By no means did we, or NBC, intend any disrespect to the families or our community affected by the recent events in Webster."


NBC declined to comment for the story.

"Chicago Fire" airs Wednesdays at 10 p.m. ET/PT on NBC.

This show is filmed in Chicago and is based on incidents that happed here that a real.  The eposide was not shot when the NY firefighters were killed.  If networks and shows had to be politically correct over every incident that happens in this country the only shows allowable would be the Karadasians and Beverlyhills housewife and garbage like that.  For your info chicago hit the magic mark of 500 murders today be offended by that number and not a TV show.
Are you sure you want to delete this comment?