Why 'The Job' is out of a job
Canceled CBS show might have been too heavy a reality dose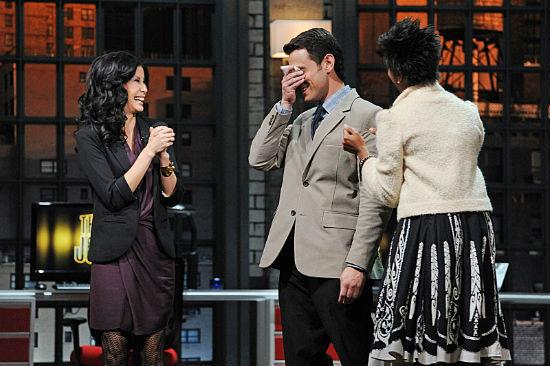 The contestants on "The Job" don't deserve to be unemployed. It's a different story, however, for the CBS executive who green-lighted this depressing
Mark Burnett
reality show.

Bing: More on "The Job" | Mark Burnett


"The Job," which got canceled yesterday after only two episodes, wasn't bad -- or at least not much worse than Burnett's other reality competitions, "Celebrity Apprentice" and "Survivor."

It showed five contestants desperately vying for the same dream job as viewers were schooled on everything they did or said wrong. In an interesting twist, three fledgling companies were allowed to pilfer candidates during the whittling process. (Imagine Jeff Probst bursting into Donald Trump's boardroom during a particularly heated showdown and offering a "Survivor" victory to one of the combatants in exchange for bowing out.)

Plus: Fantasy 'Real Housewives' cast | Celebrating Black History Month | Breakout stars of the season
But the reason most of us watch TV is to escape our realities, and "The Job" instead rubbed our faces into them. It consistently reminded us of how sad the state of our economy must be when the most impossible-to-attain​ prize a competition show can think to award is a middle-class job to someone who is completely qualified for it.


I don't know about you, but battling C-level celebrities for charity -- or other tribes to remain on a tropical island -- isn't an everyday thing for me. But I did apply last year when Buzzmedia, one of the companies featured on "The Job," advertised a full-time position after I got laid off by my newspaper. And the application didn't even warrant a response.


I mean, "Keeping Up With the Kardashians" is depressing enough.

I was turned off by the whole concept of the show . I looked hard for work for over a year after losing my job of 35 years to Chinas workforce. I am over 50 and when potential employers dicover that the experience they saw on your resume' doesn't matter any more. " The Job" was just a bad Idea with millions of people unable to find suitable work yet attempt to profit from it with a television show.
Are you sure you want to delete this comment?