'Bold and the Beautiful' invites fans to Steph's party
Don't miss the Forrester matriarch's going-away celebration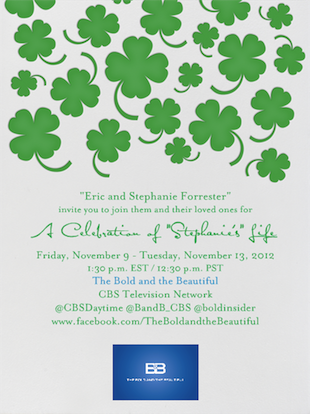 Stephanie Forrester's days are numbered on "The Bold and the Beautiful." With Susan Flannery retiring from the show after 25 years,
Stephanie will lose her battle with cancer
by Monday, Dec. 3, her last air date. First, however, the Forresters have invited viewers to a three-day celebration of the original character. The party, which kicks off Friday, Nov. 9, and continues into the next week, promises the return of several Forrester kids and performances by Celtic Woman.
Bing: More about "The Bold and the Beautiful" | Susan Flannery
"I can't think of a more beautiful way to pay tribute to the character of Stephanie Forrester and her Irish heritage than to bring in Celtic Woman to serenade her," said executive producer Bradley Bell. "Their distinctive voice and angelic melodies were the perfect accompaniment to this powerful and emotional storyline."

While the storyline is emotional, the party is shaping up to be a blast.
"It's a wild, crazy Irish celebration of her life," John McCook (Eric) told TV Guide. "Eric goes out and hires the group Celtic Woman to entertain and we have these sweet Irish dancers who get us all up on our feet doing the Riverdance thing. It's fantastic! I don't think soaps, as a rule, do the death of characters well enough, or even when a big character is taken off the canvas, like with Ridge. There's a tendency to sweep it under the rug and talk about it later. But, in Stephanie's case, we are doing it right! The audience mourns for the loss of their characters and unless the show mourns too, it's a lost opportunity. This show has always had a matriarch and patriarch and now our matriarch will be gone. I hope we'll handle that realistically and be mourning the loss for years."
Plus: Fall TV report card | TV's dream jobs and co-workers | 'Walking Dead' fantasy draft
Celtic Woman will air on Monday, Nov. 12, and Tuesday, Nov. 13, to perform their single, "The Parting Glass," and the Irish classic, "Danny Boy." The festivities will bring Stephanie's kids Thorne (Winsor Harmon), Felicia (Lesli Kay) and Kristen (Tracy Lindsey Melchior) back to town, but no word on whether fans will see Stephanie's oldest, Ridge (Ronn Moss), who recently exited the canvas. 
Susan Flannery, meanwhile, spoke out to reveal she isn't actually retiring: She's just retiring from her run as Forrester matriarch. 
"Twenty-five years was a great run," Flannery said in a statement to Soap Opera Digest. "I was very lucky, but it was time to exit. It would be fun if some new and exciting role came along, but I'm also continuing to direct. I'm directing the web series, 'Venice,' starring Crystal Chappell, which is extremely popular on the net, and is beginning its fourth season. It will be my third season of directing the show. There are just so many new and exciting venues. The web is busting wide open, and I'm happy to be getting in the elevator on the ground floor."
Viewers who are left feeling nostalgic over the end of Stephanie can look back at how things started. "The Bold and the Beautiful" has released the first 16 episodes via a four-disc DVD box set called "How It All Began." The set chronicles memorable moments from the early days of the 25-year-old soap, including the introduction of Eric, Stephanie, Ridge and Thorne, and their Forrester Creations dynasty. The box set is available for purchase here. A retrospective book, "Becoming Bold & Beautiful: 25 Years of Making the World's Most Popular Daytime Soap Opera," is also hitting stands Monday, Nov. 13. 
"The Bold and the Beautiful" airs weekdays on CBS.