'Up All Night' staffers bid farewell in Vegas
Showrunner treats team to a night on the Strip sans Applegate, Arnett and Rudolph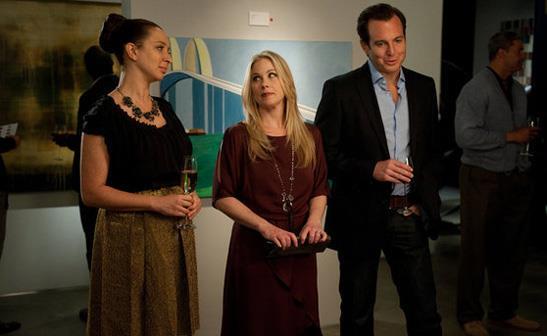 Stick a fork in "Up All Night" because it's done.
Although NBC still hasn't officially canceled the doomed second-season series, the sitcom's current showrunner, Linda Wallem, recently took staffers to Las Vegas for a last hurrah, THR reports.
Bing: More on 'Up All Night' | Christina Applegate | Will Arnett | Maya Rudolph
In case you haven't been following the behind-the-scenes saga that is "Up All Night," things started to unravel when NBC announced late last year the show would change from a single-camera comedy to a multi-camera series shot in front of a live studio audience. Not long after, Emily Spivey, who created the show, quit and so did showrunner Tucker Cawley.
Plus: 'All-Star Celebrity Apprentice' | 'Dancing With the Stars' cast | Shows that are signing off this year
Wallem, of "Nurse Jackie" fame, replaced Cawley but star Christina Applegate wasn't happy with the changes so she quit earlier this month.
Meanwhile, stars Will Arnett and Maya Rudolph have moved on, too. Arnett has signed onto a CBS pilot and Rudolph is preggers with her fourth and wants to do a variety show. The writers behind "Up All Night" have started hunting for new gigs, as well.
Sure, Arnett and Rudolph are still under contract but the trip to Sin City and a lack of official comments from NBC, Wallem, Arnett and Rudolph is all the proof anyone needs that "Up All Night" is a dead show walking.