'General Hospital' exec talks casting, sweeps, 'OLTL'
Frank Valentine teases Genie Francis' return, new love for Liz and the Nurses Ball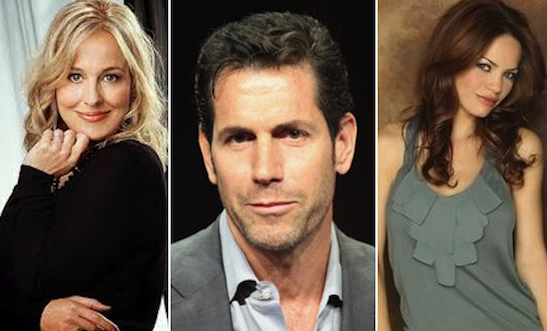 With "General Hospital" heading into its 50th anniversary this April, the ABC soap has been scoring big with fans by bringing back familiar faces of yesteryear. Executive producer Frank Valentini teased more big things ahead when MSN TV caught up with him, including Genie Francis and Jon Lindstrom's returns, Nurses Ball drama and a new romance for Liz. Valentini also discussed the online reboot of his former show, "One Life to Live." 
Bing: More about "General Hospital" | Frank Valentini

Before we get to the straight Q&A, recent rumors suggest John McBain (Michael Easton), Todd Manning (Roger Howarth) and Starr Manning (Kristen Alderson) will be called back to "One Life to Live" for the online reboot. Nothing has been confirmed, but when we spoke to Valentini on Jan. 10, he was feeling optimistic about keeping them in Port Charles.
Plus: Biggest TV interview revelations | 10 things guaranteed to happen on 'American Idol'
"I can't really talk about that, because there's a lot of legalese involved," Valentini hedged. "But everything's going to work out. The conversation is happening. I know it's all going to be great."
MSN TV: It's been a good time to be a soap fan. "All My Children" and "One Life to Live" are coming back from the dead, "Days of Our Lives" has been renewed and Genie Francis (Laura) is back to work at "General Hospital." What made decision makers suddenly realize the value of soaps?

Valentine: It is a great time. A lot of people are paying attention to the good work that the existing soaps have done and said, "You know what? There's fans out there. Let's honor them." I don't think it's just happening by accident and luckily, we're riding a nice wave of ratings and good publicity and we're able to continue the upward surge so we can try new things and branch out a little more.
Is it bittersweet that "One Life to Live" is continuing without you back at the helm?

I'm not sure bittersweet's the right word. I'm excited for all my friends in New York and excited for new life to be breathed back in to those two shows. I talked to Agnes [Nixon, series creator] last week and she's excited that her babies have been brought back to life.
Over in Port Charles, you've brought old favorites like Finola Hughes, Robin Mattson, Ian Buchanan, Tristan Rogers and Lynn Herring back into the fold. Kin Shriner returns to "General Hospital" Feb. 19 and your most recent coo is, of course, Genie Francis, returing Feb. 11. What can we expect from Laura's return?

You can expect a lot of surprises and a lot of fun. I met with Genie. She looks gorgeous. She's excited to be back. Everyone on the show is ready to embrace her back into the family. We've got a great story. She's going to be back with a nice big secret.
Is this a long-term arc or a 50th anniversary special visit?
Just wait and see. If I tell you how long it's going to be, it's just going to spoil it, in either direction. [Editor note: Valentini has since confirmed this is a full term casting hire, not a guest gig.]
Jon Lindstrom's Kevin is also heading back to town Wednesday, Jan. 30. What can we expect there?

Yes, Jon Lindstrom is taping today. I'm excited to work with him. I've always thought he was a great actor. We have some fun stuff with him and Lucy that the audience is going to be excited about.
On the other side of this, how do you feel about Steve Burton joining the cast of "The Young & the Restless"?

I wish him all the best.
February is coming fast: What can we expect during sweeps?


We'll be teeing up to the Nurses Ball, which will start at the end of March into the anniversary, which is April 1. Slightly in contrast to what's happened in the past, where it was sort of a one-off event, the Nurses Ball will be weaved into story. Big things will happen at the Nurses Ball and it will go for more than one day.
So February will be about planning the big event?
Yes, and the planning is exciting: How are they going to pull it off? The money just got pulled. Sabrina (Teresa Castillo) and Patrick (Jason Thompson) are working together, and what's going to happen with that? A lot of good questions will be answered.
Speaking of Sabrina, she's a character that has been somewhat polarizing, as you're probably aware.

No. I thought everybody liked her!
Some fans feel she has a storyline that should rightfully be Liz's. Robin was Liz's best friend, but Sabrina's the one saving the Nurses Ball and getting involved with Patrick.

But that's just wrong, because Liz and Patrick are like brother and sister. It would be creepy if they were together. And Liz has a new love interest on the horizon.
Who?

You've got to wait and see. It's someone who's on the canvas right now.
Are his initials A.J.?

No.
Fans love Liz and are concerned about her storyline.

I love Liz. I love Becky [Herbst]. She's fantastic. But something needs to be built. That character's been bounced around. She's got three different children from three different men. If she's going to say, "I love you" to somebody, it's got to be real and it's got to mean something. She's not going to jump right into it. That's not who she is. Everyone's forgotten a little bit what makes Liz the character we most identify with and most want to be. Becky's got the acting chops to pull it off and make you go through every step of the relationship with her.
With all this in the cards, can fans still expect more juicy casting returns?
Bunches! I can't [say who, yet]. I'm not being coy. We just don't have the legal documents signed. But it's the 50th anniversary! How often do you turn 50? 
"General Hospital" airs weekdays on ABC.