Snooki wants to look hot for Lorenzo
You read right: The 'Jersey Shore' mom tells Ellen she got new teeth to WOWW her newborn son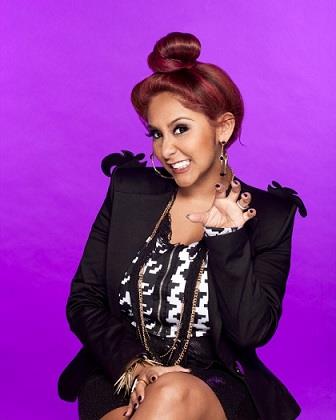 Sometimes, as your fingers go clickety-clack, you find yourself wondering why you're typing out the names "Snooki" and "JWOWW," let alone joining them with an ampersand to signify their MTV reality series. It's the kind of existential tunnel dug by pop-culture journos daily. 
Yet, we plow through, because when Snooki appears on
"The Ellen DeGeneres Show"
and explains that she underwent significant cosmetic dental work so her infant son Lorenzo could "look back and see that footage and be like, 'Oh my god, my mom was so hot when she was giving birth to me,'" it makes you feel alive. Slightly dead inside, but bunny-eared all the same. 
This did in fact just happen earlier today. Both Ms. Polizzi's sad-strange admission on "Ellen" and my subsequent enthusiasm to share this moment and just kind of cozy inside of it for a minute. 
When asked by a game DeGeneres about recent changes to her appearance, Snooki referenced her much-discussed, blindingly ivory teeth, eagerly conceding, "I ended up getting these big chompers," adding, "I wanted to look good for Lorenzo when he was born." As it turned out, that uncomfortable over-share was just an appetizer for the main dish of icky quoted earlier in this piece.
While such confessionals might suggest she's been living in a dangerously self-reflective vacuum for the past thee years (yep, that's all it's been), she did conclude by diplomatically insisting, "Obviously, I wasn't gonna do anything like plastic surgery to my face. I just got horse teeth." Obviously. 
"Snooki & JWOWW" airs Tuesdays at 10 p.m. ET/PT on MTV.