Master of Tease Frank Valentini Talks 'General Hospital'
Executive producer dishes casting, romance and the time shift for 'Katie'
ABC's "General Hospital" is getting bumped to a new time slot in most markets to make room for
"Katie,"
 starting Monday, Sept. 10. To celebrate the move, several Port Charles locals went on location in Long Beach, Calif., for explosive scenes airing that week. MSN TV caught up with executive producer and master of tease Frank Valentini over the summer to talk about what he has in store for "General Hospital," how his former show, "One Life to Live," fits into that future and the state of daytime in general.
Bing: More about "General Hospital" | Frank Valentini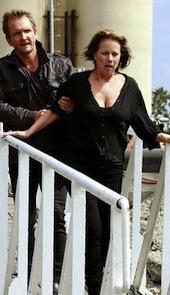 It's shaping up to be an Indian summer in Port Charles, where the action is heating up. Not only has Jerry Jacks (Sebastian Roché) returned to poison the proverbial water, with his brother Jax (Ingo Rademacher) in tow: There was also a surprise appearance by the original Duke Lavery (Ian Buchanan). The return from the dead was so scandalously delicious it had Duke Lavery trending on Twitter, but that was just a tease. With Port Charles locals hitting the waterfront to thwart Jerry's deadly plan, Lavery won't get into the action until October. 
In another surprise twist, Steve Burton (Jason) recently revealed he's leaving "General Hospital," with his final scenes airing Tuesday, Sept. 25. Many fans are crowing that it's the wrong time, since his love triangle is just heating up. Considering all the returns and casting Valentini teased, however, fans may not have time to miss the mob strong arm ... OK, that's unlikely! But Valentini is promising more excitement and casting coos, and it's all leading up to the "General Hospital" 50th Anniversary in April.
Plus: Must-see, new fall shows | New fall shows to avoid
MSN TV: You've been teasing big returns for September. We've already seen some doozies! Who is on your wishlist?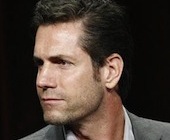 Frank Valentini: I wouldn't want to give it away, because there are so few surprises in life. The first wave starts in September and then it will go until April. One thing you need to remember with me is that I'm a planner. I've always got my eye on the future. What no one can deny is that I've brought more variety to the show. It will only continue in that vein.
"The Young and the Restless" recently went through a regime change. If there's a housecleaning over there, would you be open to bringing back Genie Francis as Laura Spencer?
Absolutely.
What about the character Scotty Baldwin (Kin Shriner)?
I hope so! I'm a big fan. He's a great character.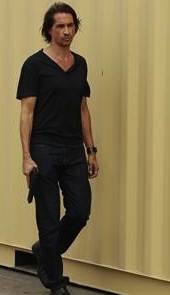 Since signing onto "General Hospital," you've managed to mix in returned Port Charles favorites and former "One Life to Live" characters to recreate the canvas. Can you talk about how you've gone about rebuilding the show?
Maybe not rebuilding, but remodeling. The show was in terrific shape, but there needed to be some tweaks. It's much more my taste, my sensibility, for the show to go just a little bit faster, but I thought there were some key characters missing – not in terms of who they were, but certain archetypes. Bringing on some of the people from "One Life to Live" was a little bit of a way to honor the "One Life to Live" audience and also to create a story that was good for the current cast.
To what extent do you still keep your eye on your former "One Life to Live" players?
We would bring people on if it made sense. We brought Kassie DePaiva (Blair) back for a four-episode arc and it made sense: Her daughter was making her debut. She wants to support her daughter. We'll never do something that doesn't feed "General Hospital," as well. Starr performing helped tee up the Michael/Starr relationship. That was important for us to do. Then it also furthered the relationship between Todd and Carly. Kassie is a great actress and that's exciting, but it was also a great way to move something forward in the Port Charles world. 
Is Kassie coming back?
Yes, Kassie will definitely be coming back.
And Melissa Archer (Natalie, "One Life to Live") has never looked better. Can we get Natalie in town?
She's a giant fox! There's legal issues, in terms of the Prospect Park deal, which I can't talk about. All I'll say is Melissa Archer is a very good friend of mine and I adore her.
Will it be revealed that Todd did not kill Victor?

Absolutely. See, we have all these great surprises that can be played out. The future is very bight and we're very excited about it.
What other elements have you focused on bringing back to Port Charles?
Romance, and I think I've been able to do that and explore romance in all of its forms. Not just candles and baths, but with the intimacy that exists between two people and what that means and how fragile and wonderful that is.
What's your take on the soap fan backlash against the talk shows?

I'm all about moving forward. Katie [Couric] is so talented and wonderful. She has supported our show and will continue to support our show. And we support her. It's a nice fit, now. There's more variety. Certainly, I would like to see "One Life" and "All My Children" come back, but the reality is we're in a different economic environment now in the television business.
During the "General Hospital" TCA panel, there were several past tense references to the wrecking ball threatening the show. Do you feel you've passed the danger zone?
Absolutely. We really have. It's time to move forward. It's very exciting for people to talk about the end, so they can be the first one to predict it. Let's embrace these shows and enjoy them. Soap opera is an original American art form that has so much equity that needs to be explored, and I'm here to make sure it's exploited and explored.
"General Hospital" airs weekdays on ABC. Check local listing for possible time slot change in your area Monday, Sept. 10.