First Look: 'Walking Dead' Prison
Report shows Season 3 set, zombies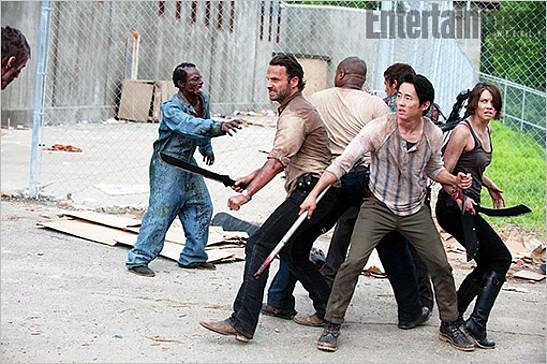 Entertainment Weekly has posted the first photos from the new season of AMC's "The Walking Dead," in which America's favorite zombie slayers encamp inside the prison shown during a distant, brief shot at the end of Season 2.
Bing: More about 'The Walking Dead'

"What's important to us is the prison itself is now a character in the show," showrunner Glen Mazzara told the magazine. "It's a haunted house, it's scary, it's frightening, and there are parts of the prison that are always terrifying, that are always inaccessible to our group."


So ... Will Rick (Andrew Lincoln) and Lori (Sarah Wayne Callies) be able to patch up their marriage? What can we expect from the new zombie-killing Carl (Chandler Riggs)? When Merle (Michael Rooker) returns, will he be friend or foe?
Season 3 of "Walking Dead" premieres in October on AMC.