Please stop talking, Kathy Griffin and Russell Brand
Hosting a talk show is harming their reputations as funny standup comics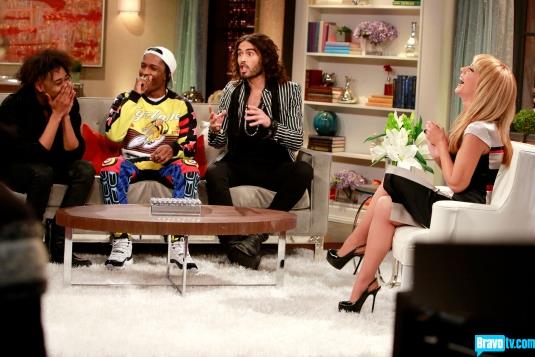 While it no doubt represents a career fantasy for both Russell Brand and Kathy Griffin, the reality of live talk-show hosting is harming their reputations as funny standup comics. "Kathy" and "BrandX With Russell Brand" make them appear to be little more than flop-sweating, rank amateurs.
Bing: More on Russell Brand | Kathy Griffin
Brand's been struggling for a season longer than Griffin, his FX show having been rejiggered from a weekly half hour of rambling monolog, to rambling with a guest and finally, rambling with several guests for a full hour on live TV.
Plus: TV's most influential African-Americans | Breakout stars of the season | 'Downton Abbey' shockers
Last week's running "BrandX" gag was a pregnant lady in audience whom Brand joked he would force to give birth, just so something worth watching could take place during his show (which was a little too true to be funny).
"Do that baby, you lunatic woman!" Brand screamed at one point, before uttering a joke about making a stew out of cut-up baby parts.
Likewise, the funniest joke ever cracked on Griffin's Bravo show came from Chelsea Handler at Griffin's expense. ("This is almost like being at the Special Olympics," Handler said of Griffin's inability to control drunk fellow guest Chris Noth and the proceedings in general.)
Based on their acts, you would think both Griffin and Brand are geniuses at improv, but that's only an illusion created by their conversational styles. In the moment, they're not making up any pop-cultural commentary, just deciding which of it to recite from a large, prepared catalog.
Bits of memorized routine are useless while conversing with guests. What's required is immediate comedy based on whatever someone else has just uttered.
Eventually, most talk hosts realize what Johnny Carson did: that the secret is to be laid back, listen to your guests and not feel self-conscious if the room isn't filled with consistent laughing at you. The problem for Griffin and Brand is that this is simply not their hyperactive style; they're better at making fun of relaxed shows than they are at hosting them.
Last week, two dying worlds collided when "Kathy" featured Brand as a guest, then "BrandX" featured Griffin, on the same night. Not surprisingly, each comic fared better as a guest than a host.
"I love the show," Griffin said on "Brand X." "Thank you very much," Brand replied. "I'm trying my hardest."
That much is obvious.

"Kathy" airs Thursdays at 10 p.m. ET/PT on Bravo. "BrandX with Russell Brand" airs Thursdays at 11:30 p.m. ET/PT on FX.