Aisha Tyler will guest on 'Hawaii Five-O'
'The Talk' and 'Archer' star to appear on drama later this year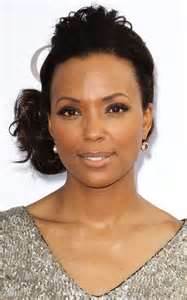 Usually when actors guest star on shows, the news breaks on Twitter or online news sites.
But Aisha Tyler's upcoming cameo on CBS' tropical crime drama, "Hawaii Five-0," was announced Friday on "The Talk" in a special video message from one of the show's stars, Daniel Dae Kim.
Bing: More on 'Hawaii Five-0' | Aisha Tyler | Daniel Dae Kim
"A little birdy just told me that the fabulous Aisha Tyler is going to be a guest star on our show," Kim said. "Once I heard that, I knew I had to say hello to everybody, and welcome you personally to the show. Here on the island, we welcome our guests with an 'aloha' and a lei!"
Plus: TV actors tied to Kevin Bacon | Canceled or renewed
Kim's announcement tickled Tyler, who, in addition to co-hosting "The Talk," also has a voice role on FX's animated hit, "Archer." No word yet on who Tyler will be playing on "Hawaii Five-0." The episode is slated to air later this year. 
"Hawaii Five-0" airs Mondays at 10 p.m. ET/PT on CBS. "Archer" airs Thursdays at 10 p.m. ET/PT on FX. "The Talk" airs weekdays on CBS.

This was the worst H50 episode ever.  She was awful and the fact that they had this episode be the one where McGarrett's nemesis, Wo Fat, gets captured was very bad planning.  It deserved a much better storyline and NOT this woman's character muddying up the story.  Fan feedback after the show was all negative. 
Are you sure you want to delete this comment?