Star Jones and Wendy Williams Dish 'The View' Reunion
Talking head calls recent visit with Barbara and company 'intense'
Star Jones has been working the morning talk show circuit. And when she visited "The Wendy Williams" show Wednesday, Feb. 29, her girl Wendy didn't hesitate to bring up the recent return to "The View." Wendy said the tense reunion "made for interesting TV," but Jones simply used the stressful moment to segway into talking heart health and plugging her current gig at "Today." As you can see in the clip above, Jones also dished about VH1's upcoming movie adaptation of her novel, "Satan Sisters," during her visit.

Bing: More about "The Wendy Williams Show" | Star Jones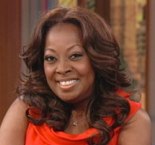 When Williams brought up the reunion, Jones admitted, "It was intense. But you know what, stressful work situations happen to all of us, whatever work we do – no matter if it's a big public stage or a private stage.


"And actually, stress is a leading risk factor for heart disease in women. As my friend and colleague Dr. Nancy said, you have to recognize the stress in the moment, acknowledge it, own it and then toss it back at people. That's really what it's all about."
Jones made it clear she has no interest in returning to "The View" as a panelist, because she already has a daytime gig. "I do 'The Today Show' Professionals with the best you can imagine, Donny Deutsch and Nancy Snyderman," she raved, insisting she wasn't being catty about it. "Every time I get on the television, I get to be a part of that family."
Donny actually made news for saying that the ladies of "The View" owe his co-Professional an apology, but Jones shrugged that off. "I was there for nine years. It's fine," she told Williams. "I do appreciate the fact that Donny had my back. You did [too, Wendy]? That's my sister!"
In the clip above, Jones goes on talk about "Satan Sisters," her novel about a panel of talk show ladies and who she'd like to see cast in the VH1 TV movie that's in the works.

"The Wendy Williams Show" airs weekdays in syndication.