Victoria Principal skips J.R. Ewing's funeral
But is a 'Dallas' return still possible?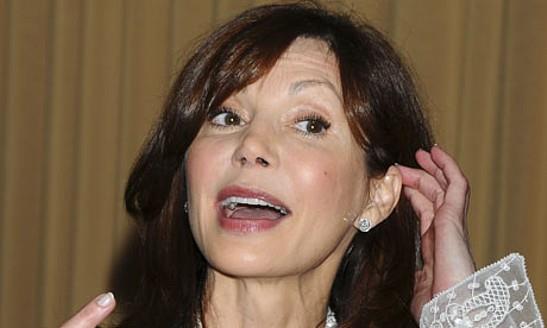 The J.R. Ewing funeral episode of "Dallas" has wrapped and will air on Monday, March 11. But J.R. Ewing (Larry Hagman) cannot truly be laid to rest if the question of what happened to Pamela Barnes (Victoria Principal) is not.
Bing: More about Victoria Principal | "Dallas"
According to all Internet accounts, the funeral guest list included Lucy Ewing (Charlene Tilton), J.R. mistress Mandy Winger (Deborah Shelton), second J.R. wife Cally (Cathy Podewell), Gary Ewing (Ted Shackelford) and Ray Krebbs (Steve Kanaly).
Wait, do you hear that? It's the sound of the bottom of a Ewing oil barrel being scraped. So what in tarnation more important was Victoria Principal doing that she couldn't attend?
Principal left the show in 1987, saying that she wanted to pursue other roles. (None of them raised her acting profile.) Producers subjected her character to a disfiguring car accident. After that, Pamela divorced Bobby (for the second time) and disappeared, but not before viewers learned that she was suffering from a terminal disease that gave her only a year to live.


Plus: TV's real-life couples | Love lessons from 'The Bachelor' | TV's top dogs


Pamela's death was never mentioned on either the CBS or TNT versions of "Dallas," however, ostensibly because producers have always held out hope that it didn't occur and Principal could be lured away from selling wrinkle cream on QVC. (Although she appeared in a 2004 CBS retrospective called "Dallas Reunion: The Return to Southfork," Principal quit acting in 2001.)
Some still hold that hope out -- particularly the 2,607 fans of the "Come Back to Dallas, Victoria Principal" page. But now is probably that hope's last window. Because with J.R. gone, it's doubtful that Bobby (Patrick Duffy), Sue Ellen (Linda Gray) and Cliff Barnes (Ken Kercheval) alone can generate enough original Ewing energy to keep the series flowing after this season.

With a new "Who Shot J.R.?" plot arc brewing, could it end up being Pamela's hands on the smoking gun? (Maybe that's why, if the reports are true, she didn't attend the funeral.) It would be the best-kept secret in television.

What do you think the chances are?

"Dallas" airs Mondays at 9 p.m. ET/PT on TNT.