Jon Cryer Talks Money, Sex and Charlie Sheen
Emmy-winning star of 'Two and a Half Men' gets personal on 'Jeff Probst'
Emmy winner Jon Cryer visits "The Jeff Probst Show" Thursday, Sept. 27 to talk about, well, everything. The "Two and a Half Men" star traces his career from playing Duckie" Dale in "Pretty in Pink" to Charlie Sheen's meltdown and also gets personal with his wife, Lisa Joynder Cryer.
Bing: 
More on Jeff Probst
 | 
Jon Cryer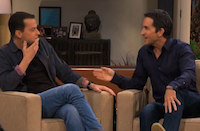 During the sit-down, Cryer talked about the ups and downs of his career, including living through co-star Charlie Sheen's very public meltdown. 
"The very worst part of that whole situation was watching a friend of mine, a guy who I've worked with for many years, become a different person," Cryer told Probst. "That's horrifying to see because you feel like this person you knew just doesn't exist anymore. 
"There was a few gradual signs, but he still seemed like the same guy. Then all of a sudden, it just exploded over night."
Cryer also recalled another big low in his career. "They started referring to me as - this is not a nice nickname - 'The Show-killer,'" he said. "That's rude! There was an article in Newsweek. I was like, 'Really? Newsweek?'"

With "Two and a Half Men" entering it's 10th season and a fresh Emmy on his mantle, Cryer certainly got the last laugh in there. 
Cryer's wife Lisa joined the guys to talk about how they met, revealing her shy hubby moved so slowly at the beginning of their courtship that she thought he might be gay. The couple also reveals how they keep their marriage spicy. 
Then Cryer joins Probst for his popular segment "Guys on the Couch" and answers relationship questions from women in the audience.  
"The Jeff Probst Show" airs weekdays in syndication.

Never...never...neve​r...liked
Cryer from day one.  He rode on Charlies coat tails from day one. If it was not for the pull his mom had in the industry he would never made it.  Lookback at his bio and you will see all the failures he had.  Sorry Cryer you are the guy we told to get lost when we were on the dating scene.........
Are you sure you want to delete this comment?