'Boy Meets World' reboot confirms Fishel, Savage
Former stars lock in to reprise roles on Disney's 'Girl Meets World'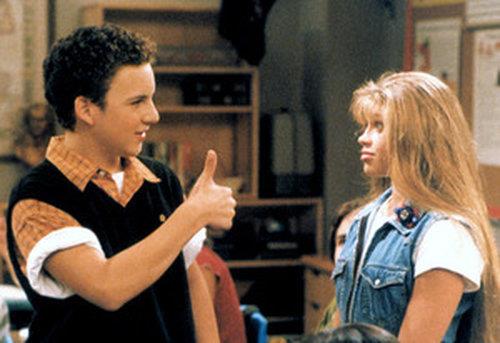 Just weeks after the
Disney Channel announced
its reboot of the long-running '90s hit "Boy Meets World," the network has locked in the show's original stars, Ben Savage and Danielle Fishel, to reprise their roles as Cory Matthews and Topanga Lawrence. Squeeee, indeed!
Savage tweeted
this Monday: "I'm going to be a father! Well, on TV at least. The 'Boy Meets World' sequel is officially happening!" 
And fans of the show should be excited, because Fishel (who hosts
MSN TV's "Last Night on TV"
), for one, expects the reboot to stay true to the original. "I promise with the entirety of my heart that we will make GMW with the same honesty, innocence, and intelligence that you learned to expect from BMW," she wrote on
her Tumblr page
this morning. "GMW is a new show," she added. "It isn't BMW brought back to life but in current day. It will have familiar faces, familiar themes, and familiar messages. It will also have new faces, new themes and new messages. Please keep in mind that this will be episode 1, of season 1, of a brand new show. We started in the same place with BMW, but we evolved and we evolved quickly. For those of you who knew and loved BMW, please allow this show to evolve as well. Stick with us. Give us a chance."
While Savage and Fishel are locked to return, along with the show's original creator, Michael Jacobs, Fishel noted she wasn't sure what was happening with the rest of the original cast. Still, she said, "I have known Michael Jacobs, Ben Savage, Rider Strong, Will Friedle, and Bill Daniels for 19 years, I know we share many of the same feelings regarding the 7 wonderful years we spent making BMW. Those years were among the most warm, hilarious, insightful, educational years of my life, and I wouldn't trade them for the world."
If the fan buzz about the show on Twitter is any indication, the show will certainly have a strong opening when it hits the air next year.