Barbara Hershey Guest Stars on 'Once Upon a Time'
Veteran actress discusses the world of fairy tales and her passion for acting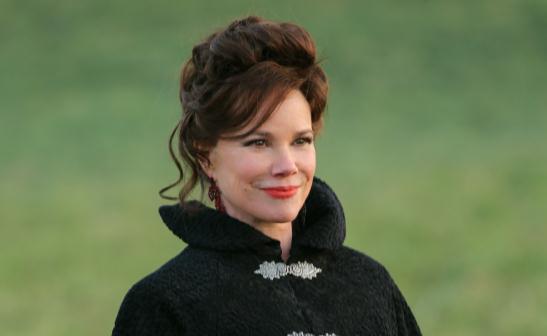 Award-winning actress Barbara Hershey enters the Fairytale Land in "Once Upon a Time," airing Sundays at 8 p.m. ET/PT on ABC. Playing the Evil Queen's mother, Barbara discusses filming on set in Vancouver and gives us the inside scoop on what answers her character, Cora, will reveal on the show.
Bing: More about Barbara Hershey | Watch episodes and clips of 'Once Upon a Time'
MSN TV: Your versatility and amazing acting abilities in films have landed you with several awards and nominations. What about TV acting did you enjoy that is different from acting in film?
Barbara Hershey: Each project is different. Television is much faster, but I enjoy that pace. But I've worked on some films where you have to shoot very quickly so the lines are disappearing. A lot of the content on television is more interesting than a lot of films out there.
What was your favorite fairy tale as a child?
It's funny. To me this -- although it's not an ancient fairy tale -- as a child, I loved "Wizard of Oz." I loved all the "Oz" books as a child, which I am amazed they haven't all been made into films yet. I've always liked fairy tales. I think they are interesting: There are morality and life instructions. The stories are about all of us and the decisions we have to make and how we react to the world around us.
What was it like on set?  Did it really feel like you were in a magical fairy tale land?
I mainly worked with Lana, and everyone on set was tremendously nice. The hours were quite long and it was cold in Vancouver and we were outside. The content, the people, it was really great.
Can you give us some insights into the episode you're guest starring in?
I play the Evil Queen's even more evil mother. In the episode, you'll find out why the Evil Queen hates Snow White so much. Cora, my character very much wants her daughter to marry the King rather than the Stable Boy. It's a mother-daughter conflict. My character is quite evil and can draw out tremendous magic.
Will we be seeing more of you on TV? 
It's open-ended so we'll see how things evolve on "Once Upon a Time," but I'm open to it completely. I love acting so it doesn't matter to me what medium; it really is all about the project itself.
What other projects do you have in the works?
I'm talking to some people right now, but unfortunately, I can't say much right now, but wish me luck, hopefully I have some stuff lined up soon.
As a veteran actress, what would be your best advice to give other aspiring young actors out there?
It's funny: There's celebrity and there's acting. I would say if you decide what you want and if it's really acting, don't do anything you're not the example of. Work hard and take it seriously.

Want more TV? Be sure to like MSN TV on Facebook and follow MSN TV Twitter.
"Once Upon a Time" airs Sundays at 8 p.m. ET/PT on ABC.