'Deception' producers left tongue tied
Questions regarding race and class on NBC's new drama stymie showrunners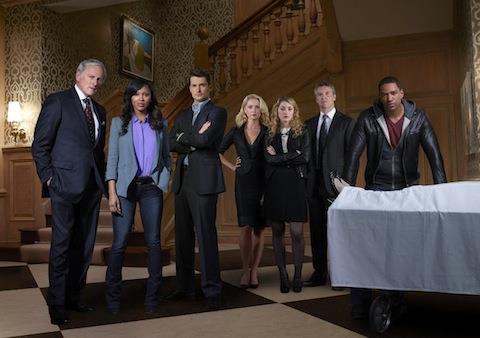 NBC is implementing diversity. Too bad its showrunners seem unable to talk about it.
Such was the case at a Television Critics Association press panel Sunday in Pasadena, Calif., where the cast and showrunners behind the network's new drama "Deception" promoted the show. But when questions of race and class arose, producers appeared gobsmacked.
Bing: More on 'Deception'  | Meagan Good
"Deception" debuts Monday, Jan. 7, and follows the undercover efforts of Joanna Locasto (Meagan Good, "Think Like a Man"), a San Francisco police detective recruited by the FBI to solve the suspicious death of her one-time best friend. In order to reach the truth, Joanna must infiltrate the family of her old BFF, a wealthy and devious clan that used to employ Joanna's mom as a maid. Laz Alonso costars ("Jumping the Broom") as Joanna's recruiter and former coworker/lover and veteran actor Victor Garber plays Robert Bowers, the family's dastardly patriarch.
Plus: Crystal-balling the Golden Globes  | The Golden Globe games
While most critics applaud "Deception" for being one of two broadcast dramas headlined by an African-American woman -- the other is ABC's "Scandal" -- some reporters wondered how race would be handled on the show; why the villains are wealthy and white and the law-enforcement officers are African-American; and why Joanna's mom was penned as the help.
Liz Heldens, the creator and one of the executive producers of "Deception," gave an awkward answer regarding race and its role in the nighttime soap, implying that the "us versus them" theme is a racy coincidence.
"It is a way to sort of deal with race without actually having to talk about it," Heldens said, adding that Good and Alonso were cast because they are the best actors for the roles and not because they are black. "But it's not really something we talk about too much in the writers' room."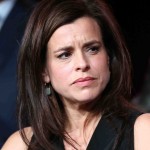 But why not address Joanna's race? It's one of the show's edgier elements. And as dramas such as "Scandal" and Showtime's "House of Lies" have proven, having a black actor in the lead paves the way for a lot of provocative storylines. 
When another critic asked Heldens a similar question, she became flummoxed.
"And it just doesn't, it just doesn't," she said. "The show is about so many things, and I mean, it's so rich. I'm not sure what we could put in the characters' mouths that speaks louder than, you know, the fact of what you're looking at on screen."
As for class and why Joanna's mom was the maid instead of a white-collar employee, such as the falsely-accused father on "Revenge," (a program "Deception" not-so-coincidentall​y resembles), executive producer Gail Berman paused uncomfortably and tried to explain. Her answer sparked groans of doubt. 
"Meagan's mother is described in the show as the head of the household," Berman said. "Obviously that does indicate that she worked in the house, but I don't think it's really referenced as the maid. And the intent was that it played in an upstairs/downstairs kind of way. However, the character of Joanna was completely accepted into this family and became the best friend."
Even if Joanna's race isn't addressed on the show or in the writers' room, Heldens and Berman should've been poised with more thoughtful responses for critics who wanted to tackle the hot-button topics the drama obviously engenders. But blind-casting has its advantages and, in the end, Good and Alonso said they're just happy to be given a chance.
"One thing that I thought was really cool is when I read the script, the characters were not specified (by) race," Good said. "It was just Joanna. And I thought that was really great."
Added Alonso: "My character, when I was cast, his last name was Sackavich. Now he's Moreno. It makes a little more sense. (I) throw a little bit of my Spanish in there every now and then when I get a chance, but for me it's been great to play a well-rounded human being regardless of color or racial ethnicity."
"Deception" debuts Monday, Jan. 7, at 10 p.m. ET/PT on NBC.

When are people going to get rid of the RACE issue and realize that
NO ONE gets to choose the "package" they come to Earth in?
PEOPLE ARE PEOPLE, no matter what the color of their package
no matter what their SEX or height, or color hair, or eyes.
Aren't we more mature, in the year 2013, than to stick with the old
attitude, of "black/white/chinese​/japanese/African/Fr​ench/Spanish
ETC?
While I have your attention, when are we going to include ALL the
various languages, so that we can wear out our fingers, pressing 1, for English,
2, for Spanish, 3 for ETC?    Every other nationality should be represented
in the telephone answering messages we have to listen to, when we
dial a number.    English and Spanish are not the only 2 languages spoken
on the planet.   DUH!
Are you sure you want to delete this comment?